Manchester United
Mourinho parking the bus at Man Utd not a problem for Scholes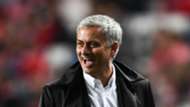 Jose Mourinho "parking the bus" is now a necessary requirement for Manchester United to get results, says Paul Scholes.
The Red Devils legend admits that the club would have struggled to justify that approach in his day, but times have changed.
Mou's men 17/20 to win to nil v Hudds
Under Sir Alex Ferguson, an all-conquering United side were expected to show attacking intent every time they took to the field.
A period of much change at Old Trafford has, however, moved the club away from that philosophy and left them in a position where a defensive mindset can be just as productive.
Responding to the criticism levelled at Mourinho in the wake of an uninspiring 0-0 draw away at Liverpool in the Premier League, Scholes told BT Sport when asked whether keeping things tight is the right tactic for United: "I think it is now, probably two, three or four years ago maybe not. I think it is now because of the position they have been in.
"They haven't been in a position to win the league. I'm not saying they are in a position to win the league now, it's very early, but to go to Anfield is very difficult.
"You could win the game, don't get me wrong, you could score goals, but I think that was a typical Man United performance really, he got everything organised and defended brilliantly well and got the point they needed."
Playing not to lose, rather than playing to win, is a tactic which has served Mourinho well down the years.
He has an enviable collection of major honours on his CV to suggest that his methods should not be questioned.
A stalemate at Anfield may not have been to everybody's liking, but the result did stretch United's unbeaten start to the season.
They remain very much in title contention, just two points back on free-scoring Manchester City, and are making positive progress at home and abroad.
Despite contending with a lengthy injury list, the Red Devils remain on track in Premier League, Carabao Cup and Champions League competitions.
They followed up their draw at Liverpool with a dogged 1-0 victory away at Benfica in Europe, with Mourinho's men now having one foot in the knockout stage.