Premier League
Mourinho in further tribute to Ranieri as he wears 'CR' shirt in press conference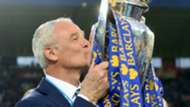 Jose Mourinho has once again paid tribute to Claudio Ranieri, wearing a 'CR' initialled polo shirt during his press conference on Friday afternoon.
The Manchester United manager had taken to Instagram on Thursday night to express his support for Ranieri, who was sacked by Leicester City after the 2-1 defeat to Sevilla.
Mourinho's Instagram tribute to Ranieri
Editors' Picks
The Foxes find themselves in 17th place in the table, with the Italian having overseen the worst title defence, in terms of points on the board, in Premier League history after 25 matches.
But Mourinho, who himself was sacked after winning the title during his second spell with Chelsea, continued to back Ranieri, and even wore a 'CR' shirt in tribute to the former Roma manager.
José Mourinho for Claudio Ranieri, today. #MUFC pic.twitter.com/eT66D8v178

— Fabrizio Romano (@FabrizioRomano) February 24, 2017
He said: "My words is my shirt with his name. It's my little homage to somebody that wrote the most beautiful history of the Premier League.
"Somebody who would probably deserve the Leicester stadium to be named 'Claudio Ranieri', and he's sacked.
"So I think Leicester made history two years in a row. One year because they did the most beautiful thing in the Premier League and one of the most beautiful histories in football history.
"And now they're also in the highlights with a decision that I think has everyone in football united because it's something very, very difficult to accept.
COMMENT: Leicester right to sack Ranieri
"But at the same time it's good for all of us to realise how football is now.
"I thought last season when I was sacked as a champion it was a giant negative thing, now I realise that it was peanuts compared to what happened to Claudio.
"So my Instagram is a little homage, my shirt is another one and I don't think he needs more homages because nobody can delete what he did."