Johor Darul Ta'zim
Mora admitted that PKNS' formation forced him to switch things around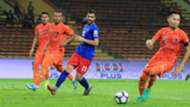 Johor Darul Ta'zim (JDT) got their ninth win of the 2017 Super League campaign to keep their distance from Pahang and Kedah maintained at six points as the league takes a break due to the Ramadhan fasting month. 
The latest win for the Southern Tigers came courtesy of a second half winner from Amirulhadi Zainal after PKNS FC produced a disciplined defensive performance that frustrated the league leaders for most of the match.
PKNS started with very rather defensive line-up as they set about denying space in the midfield that JDT like to operate on. Abdul Ghani, M. Sivakumar and Fauzan Dzulkifli were outstanding in the respective roles in ensuring that it was to be a tough night for Benjamin Mora's boys.
The JDT head coach said in the post match press conference that the formation that E. Elavarasan started with, did caught him off-guard. Which is why he went about changing the formation midway through the first half to combat the situation.
"This was not the formation we expected. They went with a 5-3-1-1 or a 5-3-2. At the beginning, the flanks were making some problems. Because we had a 4-2-3-1, very settled - hoping that we can have superiority on the flanks." 
"Then we changed to a diamond four and that helped us to get a little strengthen in midfield. Gonzalo [Cabrera], I put him inside to try to play behind number 11 [Nazrin Syamsul], with Gabby [Gabriel Guerra] and [Mohammed] Ghaddar as the two strikers versus the right and left centre back. So yes, there was a little bit of surprise," said Mora.
Despite the defensive nature of their formation, PKNS did carve out chances to score at the opposite end but a combination of poor final balls and good defending from the likes of Marcos Antonio and Aidil Zafuan, averted the danger for JDT. Mora went on to explain the areas that PKNS targeted that cause his sides problems - especially in the first half.
"I think the problem was not really there because PKNS style was not really for progressive attacks, just long balls to the sides behind our flanks. They make it difficult because they made our centre backs go out to the sides and then crossing for Patrick [Ronaldinho Wleh] and Matias [Hadwa] because they are strong and tall." 
"PKNS always fight a lot. It seems a little bit odd that they are int he position that they are because they fight a lot and play not very bad. They managed to hold 0-0 but it wasn't the best in terms of sharpness of the finishing. It's normal, sometimes we can and sometimes we cannot. We need to manage and be patient to the moment," explained Mora.
Overall, it wasn't the crisp JDT performance that one would have come to expect. There were a distinct lack of cohesion in their gameplay and because of that, they suffered for long periods of the match as PKNS continued to stifle their every move.
The absence of Safiq Rahim's creative influence in the middle of the pitch, stuck out like a sore thumb but Mora also put it that down to one other personnel change that disrupted the usual rhythm of his team.
"Well, there's two things. One is that Safiq a very intelligent player. An attacking midfielder who always gives very good passes to our strikers like Hazwan [Bakri], Gabby and Gonzalo. They already know how to play because they play together in a lot of games."
"Now with Ghaddar inside and Safiq outside, it's two changes. One is new and one is not there. It's not an excuse because Ghaddar had 2 or 3 opportunities to score. That means we create the opportunities. At some point, we broke the lines, the difficulties of PKNS.
"Unfortunately, it was not the night of sharpness for Ghddar but that's ok. He's going to adapt as soon as possible to his team mates and he's still a good striker. He will score goals," added Mora.
Safiq missed out on the PKNS match due to him amassing three yellow cards but the midfield maestro should be able to return for JDT's next match against Ceres-Negros FC in the AFC Cup next week.