Arsenal
Mkhitaryan convinced he can play with Ozil: 'Why can't Arsenal have two No. 10s?'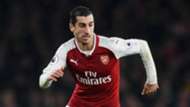 Henrikh Mkhitaryan remains convinced that he and Mesut Ozil can operate in the same Arsenal side despite their similarities.
Arsene Wenger has always been fond of creative playmakers, with the Gunners squad having been well-stocked with such performers down the years.
They further bolstered those ranks during the January transfer window, with Mkhitaryan acquired in a swap deal which took Alexis Sanchez to Manchester United.
The Armenia international is still finding his feet in new surroundings, but believes that Arsenal will benefit from playing with "two No. 10s" once he is fully up to speed.
Mkhitaryan told ESPN FC on playing alongside Ozil: "Some people are saying we cannot play together, but I can't understand these people that are saying that.
"I'm just enjoying playing with Mesut and he's an amazing football player.
"I'm getting better playing with him, everyone knows his skills, abilities, so why not? Everything is possible, why not have two No. 10s on a pitch?
"You know, even if we play very good, there's always room for improvement - even if we were playing offensive football, we can still improve.
"I mean maybe we can improve in every aspect, it doesn't matter if we are strong in one side and weak in the other - I think there are a lot of spaces for improvement."
Mkhitaryan is determined to prove his worth with Arsenal, having endured a frustrating spell at Old Trafford which saw him regularly slip down the pecking order under Jose Mourinho.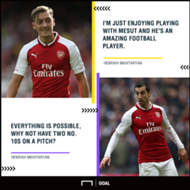 He has openly admitted to having been a Gunners follower growing up, and the opportunity to realise a boyhood dream is one that he intends to take full advantage of.
"Yes, I've been watching many times Arsenal games in the past and of course I was following the team playing in the Premier League and Champions League," he added.
"Also, Arsene Wenger, how he was treating and working with the young talent.
"I don't know why but that was the drive and small details that changed myself to saying I have to support Arsenal.
"I'm very happy to be here and it's a dream come true."
Mkhitaryan has already offered glimpses of what he can bring to the Arsenal side, with three assists in a Premier League meeting with Everton having been followed by another in a Europa League clash with Ostersunds.