Arsenal
Misfiring Ozil needs to regain his confidence, admits Arsene Wenger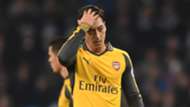 Arsene Wenger has called on Mesut Ozil to start scoring goals again and believes his German playmaker is currently lacking confidence.
The 28-year-old has gone off the boil in recent weeks and was largely anonymous in Arsenal's 2-0 victory over Hull on Saturday, with some reports suggesting his manager is ready to drop him to the bench for the Champions League match with Bayern Munich on Wednesday.
Speaking to the media post-match, Wenger acknowledged Ozil currently isn't playing to his full potential.
"It's time for him to score again," Wenger said after Alexis Sanchez netted both goals in a 2-0 win over Hull.
"Maybe he will find confidence back as well, because he misses chances. He has chances and he misses the chances that don't look not feasible for him.
"I felt he did not feel confident (against Hull). It's always a problem because you think he can deliver something special but it's true that technically he missed things that he is not used to."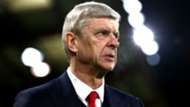 Wenger admits he is dumbfounded by Ozil's poor performances but says he has talked to him about the situation.
Ox: We don't worry about history
"I don't know - it can happen," he said. "I don't know any specific reason. I had a chat with him (on Friday)."
Having lost two of their previous three matches, Wenger knows the pressure will only increase if his side are defeated by Carlo Ancelotti's Bayern in mid-week but the Frenchman insists he is looking forward to the game.
"You have to enjoy football," Wenger added.
"At the end of the day you have to keep that as well. It's true that it's not always easy but it's important that you feel happy. So what we want is to do well and qualify against Bayern Munich."