Liverpool
Milner discusses adapting to Liverpool role that isn't like playing 'Sunday with your mates'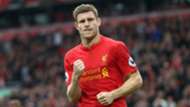 James Milner admits that he has not always enjoyed playing at left-back for Liverpool, having been thrown in at the deep end by Jurgen Klopp.
The vastly experienced former England international has filled various positions over the course of a distinguished career.
He has usually been used in a midfield role, with his greatest success enjoyed on the wings.
Coutinho embraces top-four pressure
The 31-year-old has, however, been asked to adapt his game again this season, forcing him to learn as he goes in order to cement a much sought-after place in the Reds team.
Milner told Sky Sports: "It's the first time I've played it (left-back) in the Premier League and it's not like getting to learn it on a Sunday with your mates.
"It's a big change but I've always tried to learn throughout my career and I've played a lot of positions anyway, so it's just trying to do the job as well as you can. But it's about whatever is best for the team.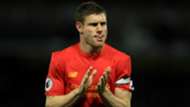 "Ultimately I just want to be out there playing games and contributing. I haven't gone to [Klopp].
"He knows how I feel and asked me at the start of the season about my thoughts. I believe that once you've committed to something and made a decision you stick to it and do your best.
The misfits driving Liverpool's aims
"There have been times I haven't enjoyed it and have been frustrated, but I'm enjoying being part of this squad, we've got a lot of great players and I think we can be successful. I want to be a part of that."
Milner has made 37 appearances in all competitions this season, with the 31-year-old a key figure in Klopp's plans.
His next outing could come against Southampton on Sunday, with Liverpool looking to cement their standing inside the Premier League's top four.