Australia
Mile Jedinak opens up on captaining Australia, Ange Postecoglou and the Socceroos' World Cup campaign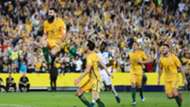 Not many people get the chance to lead their country in any form, let alone at the world's biggest sporting tournament.
But a humble lad from Sydney's western suburbs is about to steer his nation at a second World Cup.
Socceroos captain Mile Jedinak is in no doubt what it means to him to skipper the men in the green and gold.
Editors' Picks
"It's probably the highest honour of a professional footballer," Jedinak said, speaking in his role as a World Cup ambassador for Hisense.
"It's a huge privilege - every time, every chance, every moment you get to do that and be given that responsibility."
This motto is shown in the way Jedinak led the Socceroos to Russia - with a match-winning hat-trick in the second playoff against Honduras sealing qualification.
What made this performance even more extraordinary was the fact he had only played 98 minutes of football, for either Australia or his Championship side Aston Villa, in the previous five months - having been crippled by a chronic groin injury after having off-season surgery in July.
Despite many believing the 33-year-old's body was starting to give in, Jedinak reveals he never gave up hope of returning to his best despite numerous setbacks while training in England's Midlands.
"It was obviously a tough period. I had a procedure in the off season and was rehabilitating in the pre-season and trying to get myself back to a position where I could play games," Jedinak said.
"I had a few hurdles along the way with different things that I wasn't really aware of it at the time because I hadn't really experienced anything like that before.
"Sometimes it became frustrating but I think for me, you never lost sight of what you wanted to do and how you wanted to do it.
"Once you start ticking the boxes off slowly you can see the light at the end of the tunnel."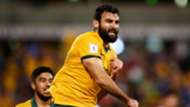 Jedinak's triumphant return to the national team fold was met by the polar opposite - the sad departure of coach Ange Postecoglou - who helped the team secure a spot in Russia but wasn't keen to finish the journey.
Postecoglou appointed Jedinak as team captain during his second official match of the Socceroos in March 2014 - and the duo then led Australia to the World Cup in Brazil before lifting the Asian Cup on home soil six months later.
When asked about Postecoglou's resignation, you can sense a slight disappointment in Jedinak's voice but also the steely determination to ensure the team's transition to a new manager is positive.
"It would have been nice to have the continuity and nice to have Ange continue on the path – but it wasn't meant to be," he said.
"It's a decision that was made and I think no matter what it had to be respected. It was understood.
"Obviously we had really good times and great moments within that chapter. But when that was shut, it was time to start a new chapter.
"One of the big things now is the excitement that lies ahead."
Jedinak is referring to the instalment of Dutch coach Bert Van Marwijk to lead the Socceroos in Russia.
Surprisingly the pair haven't spoken yet, but Jedinak will meet the new gaffer in camp before the two friendlies against Norway and Colombia.
He feels confident Van Marwijk will gel with the squad and that no limit should be put on Australia's World Cup aspirations.
"I don't really want to put too much expectations on it. I think if we play with our capabilities and also beyond our capabilities, then I think anything is possible," Jedinak said.
"With our experience in recent years with tournaments and these sort of crunch games, hopefully we can use that with what we have learned over this qualifying campaign.
"But the one thing I will say is never put any limits on it because you will end up surprising yourself."
The Socceroos skipper hopes his team can not only put on a show for the 5000-plus fans in Russia, but also the many thousands of supporters who watch the game on television.
While some sporting and brand partnerships can seem trivial, Jedinak is passionate about his association with Hisense - who are the official TV for the World Cup.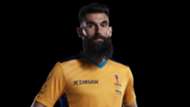 Having watched many World Cups on television at all hours of the morning as a youngster, Jedinak is hoping young Australians can be inspired to follow their dreams by watching the tournament in their living rooms and seeing the incredible.
"I remember watching the World Cup in America in 94 and it was on at silly o'clock and it was tough to get up - even my Dad would watch pretty much every game," he said.
"I loved watching that Brazilian team featuring Romario and Bebeto, and also Robert Baggio for the Italians.
"The partnership with Hisense is about trying to inspire the next generation to watch their stars on the television at the World Cup.
"Hopefully we'll be able to not only inspire the younger generation and also help them to fulfil their dreams as well."