NPFL
MFM have profited from fair officiating, says Alashe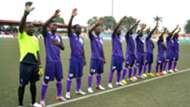 Ajibola Alashe reveals that Mountain of Fire and Miracles FC have benefitted immensely from the approach of referees in the 2016/17 Nigeria Professional Football League season.
The referees who have come under heavy criticism in past campaigns have gone on to make good impressions in the eight-week-old league and thus, found themselves in the good book of the attacking midfielder.
"The officiating in away games this season; I think it's very encouraging," Alashe told Goal.
Editors' Picks
"Unlike last season, the referees are doing well. Unlike when they won't allow you to play in away games," he continued.
"So, that's what, I think gives us the point. The referees open the game and we are able to play our game and also defend our game.
"And the tactics we use in away matches is different from that of home games. We approach our away game with the art of do-or-die affair; that even if it is going to be a draw, we do not want to lose.
"So in that case, we defend very well, tactical, and technically, we try to play as well.''
The former Bolowotan FC midfielder also stressed the fact that complacency will not get the better of Fidelis Ilechukwu's side in their quest for a top spot.
"We've really worked hard so much. The intensity and enthusiasm from everyone is high. We are looking forward to more victories," he continued.
"Although we won't allow complacency to set in as we are still focusing on playing and winning more games and by the end of the season we are going to see where it will take us.
"It is all about determination and focus. You know we are in a comfortable place in the table now and we don't want to go down. We enjoy winning and we keep fighting for each other, training hard to make sure we secure away points.
Seated in the third spot with 13 points from seven games, the player said their main aim is to dethrone league leaders, Plateau United. 
"We will try as much as possible to keep that position, although we are aiming the first position and currently Plateau United are in top form, they are winning home and also getting points in away games.
"We are looking forward to overtaking them and we will not lose concentration as we are trying to keep focus and make sure we maintain that second position.
"A lot of away points can help us achieve that as we are confident of winning our home games. But for that to happen we have to keep winning, getting points from our away games," he concluded.