Premier League
'Mavropanos possesses everything to succeed', says former Arsenal defender Stathis Tavlaridis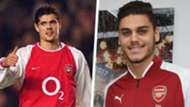 There aren't many players who will be able to relate to a 20-year-old arriving from Greece to play under Arsene Wenger in one of the world's biggest teams, but Stathis Tavlaridis knows all too well what Arsenal new boy Konstantinos Mavropanos faces in the coming weeks and months.
Tavlaridis, who joined the Gunners at the age of 21 from Iraklis Thessaloniki, remains the only Greek player to have featured for Arsenal and admits he was delighted upon hearing the news that Mavropanos had secured his move from PAS Giannina to north London.
Now 37-years-old and living in Greece after hanging up his boots seven months ago, Tavlaridis spoke exclusively to Goal about how he is confident that his compatriot will go on to become a regular in the centre of defence at Emirates Stadium.
Editors' Picks
"He's a very good player with a big future ahead of him," Tavlaridis told Goal .
"But the most important thing for me is to have a good character and be a humble person if you want to build a long career. Talent is not the only important thing, good character is too.
"Mavropanos has the whole package to have a very successful career. I am sure he will go on to play for the first team because he has the personality and quality to make it."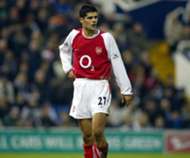 Highly-rated Mavropanos is expected to be sent out on loan to Germany in a bid to aid his footballing development over the next few months. Tavlaridis faced the difficult prospect of trying to break into an Arsenal defence which boasted the likes of Kolo Toure and Sol Campbell.
At the age of 21, he went on to make seven starts for the club – six of them coming in the League Cup - but Tavlaridis says that the general atmosphere at Arsenal and mutual respect between players and staff is what differentiates the club from elsewhere.
"The advice I can give to him is to believe in himself and to be himself," said Tavlaridis.
"He will see so many things that will be life lessons for him. When I arrived there [at Arsenal] I saw some things in this team which I will never forget in my life. For example, when I saw how the likes of Patrick Vieira, Thierry Henry and Tony Adams treated the Arsenal staff [equally] that was a big surprise. That's what makes Arsenal such a massive club for me. The small differences.
"First of all I was very happy when I heard the news [about Mavropanos joining Arsenal] because he will see things that only I saw. It was a big school for me which changed my character. When you have legends like Patrick Vieira, Tony Adams and Thierry Henry in the dressing room next to you who have won everything like the World Cup and European Championship, and you didn't win anything in your career, you start to think about many things.
"I said to myself that I have to be humble and work hard because before I joined Arsenal I thought the big stars would have big egos – but I was wrong and that was a big surprise for me. They were so good with me and helped me a lot, especially players like Tony Adams and David Seaman. I was so lucky."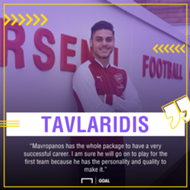 Despite only making seven appearances for the club, Tavlaridis reflects on his time at Arsenal with great fondness for his former team-mates and manager.
After leaving Highbury he won two international caps for Greece in 2004, before spending six years in France with Lille and Saint-Etienne. In 2010 he returned to Greece with AEL, before spells at OFI Crete, Atromitos, Panathinaikos and most recently Aris, and announced his retirement at the end of last season.
"I finished my career seven months ago and I think about all of these things and think to myself how lucky I was to participate in the best squad in Arsenal's history. They won everything in that time. So many good players with very good character, that was the most important thing for me."
"Before arriving at Arsenal I had played in the UEFA Cup for Iraklis. They were a respectable club in Greece always in the top four positions and I was playing every game. Sometimes I didn't want to play with the reserve team and had an arrogant attitude.
"Then when I joined Arsenal, I saw players like Martin Keown and Tony Adams, at the age of 36 and 37-years-old, going to play with the reserves. That was a big example for me. I have so many good memories and life lessons which changed my character."
Tavlaridis insists he is eternally grateful to Wenger for giving him an opportunity to play almost two decades ago. He says he will never forget about the life-changing experience of playing for Arsenal and pays tribute to the French manager who blooded him in a team full of legends including Sol Campbell and Tony Adams.
"He [Wenger] is a very intelligent man who was like a teacher for me. When you say one thing to him, he can understand 10 things! He gave me the opportunity to play six or seven times which I will never forget. It was my fault that I didn't take the opportunities but at that time players like Kolo Toure, Sol Campbell and Martin Keown had left their mark on the team and I could only learn from them.
"I'll always remember Mr Wenger, Boro Primorac, Pat Rice and people in the staff like Gary and Colin Lewin who were so kind with me and respected me so much. I will never forget the way in which they treated me. I want to say thanks to everybody because it was the most important experience in my 21 year-long career."