Mats Hummels
Bayern Munich star Mats Hummels mocked for choosing Bollywood star Sonam Kapoor over Ayesha Takia!!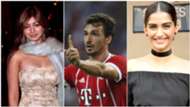 Bayern Munich defender Mats Hummels' research skills have been questioned on social media after he answered a simple query from a curious fan. 
On Friday night, Hummels participated in a LIVE Q&A session on his Twitter page and among the variety of questions that came in, was an innocuous one. However, it turned out to be the pandora's box that turned the session into a hilarious episode. 
What it also did was to put Hummels' choices in question! 
Editors' Picks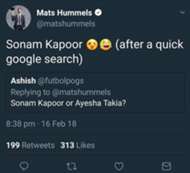 A user asked him to choose between Bollywood actresses Ayesha Takia and Sonam Kapoor. Hummels, who understandably must not have watched many Bollywood films, opted to do some research and came back with his choice - 'Sonam Kapoor'. 
That answer was mocked on social media, with the Twitter thread turning into a rib-tickling read. The original tweet was later taken down but not before users managed to take a screenshot.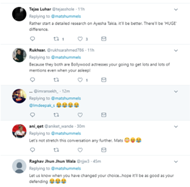 So much so that Hummels was even forced to put out another tweet on the subject! 
So, folks! Do your research well before choosing between Ayesha Takia and Sonam Kapoor next time! 
Okay this seems to be a bigger Deal than i thought. I will start a detailed research later https://t.co/IFtDbACkDY

— Mats Hummels (@matshummels) February 16, 2018