UEFA Europa League
Mata: United tried to lift 'the spirit of the city'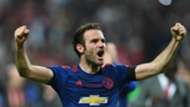 Juan Mata said he and his Manchester United team-mates tried to "lift the spirits" of the city in their 2-0 Europa League final victory over Ajax.
The Premier League side won their first ever trophy in the tournament thanks to goals from Paul Pogba and Henrikh Mkhitaryan, with Mata going 90 minutes before being replaced by Wayne Rooney in stoppage time.
Numerous United players have emphasized they felt a need to perform for their city, which was hit by a terrorist attack Monday which took the lives of 22 people.
Pogba leads United emotional triumph
Mata was no exception when asked if the team tried to win for Manchester, saying: "We wanted that too.
"Sadly we have to live something really sad and bad, a tragedy for all of us.
"Today we tried to focus on football for at least 90 minutes, try to win for them and try to lift a little bit the spirit of the city. We feel really proud of that, you know.
"At least people today were a bit happier than those last hours because of the trophy and because we're playing Champions League next season.
"We know there are things that are far more important than football obviously, rivalry and all these things don't count now. We are all together and all we have to do is keep together and stay strong."
Mata emphasized how important returning to the Champions League was to the team's season.
"It's massive for us," he said. "Today was all or nothing, or almost nothing, and we got it all.
We've got three trophies, we play in the Champions League next season so I think it's fair to say that it was a good season for us."
The midfielder also discussed big striker Zlatan Ibrahimovic, who missed the Europa League final with a knee injury and is out of contract with the club.
"I don't know," Mata said when asked if Ibrahimovic would return to the club. "He was very unlucky with the injury, with the moment of his career to get that injury.
"But you know him, he's a fighter… He will fight to come back for sure, but I don't know where."
Despite his absence, Mata believes Ibrahimovic deserves credit in the team's run to the title and was pleased to have been part of the experience.
"He was really happy, really proud," Mata said. "He played a big part in this competition, scoring a lot of goals, knowing the final was here in Sweden, his country where he is loved. So it was a special day for him and for all of us.
"It's a special country for me as well so I'm really happy to be here and to win this trophy for the injured players and for the people in Manchester who have suffered a lot."