PSL
Manyisa: Jonevret trusts me to lead Orlando Pirates to victory in Soweto Derby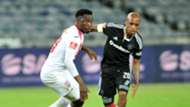 Orlando Pirates captain Oupa Manyisa says Kjell Jonevret has given him his backing to continue leading the team ahead of their clash with Kaizer Chiefs on Saturday.

The Buccaneers have struggled under the central midfielder's leadership, while Manyisa has also struggled for form this season.

"Well, the coach believes in my leadership skills. He believes that I am still the right player to lead the team," Manyisa told the media.

"I'm keen to lead the team - so the coach told me to assist him in uniting it. So we are looking forward to our first Soweto Derby with the new coach," he said.

"The coach has told us to go out and enjoy ourselves, but be tactically disciplined in our approach," the 28-year-old continued.

"The team that normally wins in the Soweto Derby is the one that concentrates for the entire game," Manyisa added.

"Our aim is to play our normal football and make sure we keep our nerves down.
"We need to fight for one another on the pitch and we will stand a good chance of winning," he concluded.