Manchester United
'Manchester United. Tonight more than ever' - Manchester United hailed after Europa League win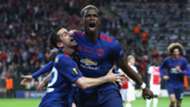 Manchester United are the Europa League champions.
Pogba leads Utd to emotional win
Goals from Paul Pogba and Henrikh Mkhitaryan gave Jose Mourinho's men a well-deserved 2-0 victory over a young Ajax side in the final on Wednesday to confirm United's qualification for the Champions League next season.
The result comes just days after a terror attack in Manchester that claimed the lives of 22 people and injured many more, and fans took to Twitter afterwards to label United's victory a defiant one for a city in need of a lift, and to hail the side's performance.
Manchester United. Tonight more than ever.

— Andy Burnham (@AndyBurnhamGM) May 24, 2017
Manchester United have performed on the big stage tonight in the toughest circumstances. It's beautiful.

— The Peoples Person (@PeoplesPerson_) May 24, 2017
Congrats @ManUtd. You won for Manchester. #ChampionsLeagueBound

— Spencer FC (@SpencerOwen) May 24, 2017
YESSS!! WE'VE DONE IT!! EUROPA LEAGUE CHAMPIONS 2017!!

This is for you Manchester!

— Manchester United (@ManUnitedWorld) May 24, 2017
Congratulations to Manchester United, the new Europa League champions which showed today the difference between playing and competing

— Guillem Balague (@GuillemBalague) May 24, 2017
WE ARE BACK. #MUFC pic.twitter.com/N3fW6cax5G

— Red Devil Bible (@RedDevilBible) May 24, 2017
Manchester United secure Champions League football for next season by winning the Europa League. Professional, diligent and deserved.

— Liam Canning (@LiamPaulCanning) May 24, 2017
Europa League winners! Congrats to @ManUtd and my former mates #mufc

— Basti Schweinsteiger (@BSchweinsteiger) May 24, 2017
Tactics spot-on from Mourinho. 2 trophies in a season. Champions League football secured on an emotional night in Stockholm #MUFC

— Dan Walker (@mrdanwalker) May 24, 2017
You can post your reaction to United's win in the comments box below.