Transfers
Man City refute TPO claims as FA works on Gabriel Jesus registration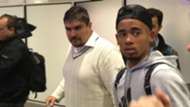 Manchester City are confident they will be able to register Gabriel Jesus in time for next Saturday's Premier League clash with Tottenham.
City boss Pep Guardiola confirmed on Friday that Jesus would not be registered with the Football Association in time to make his debut against Everton at Goodison Park this weekend.
It is understood the FA still needs to clarify certain documents before it can clear Jesus to play, though senior City sources believe the process is 95-97 per cent complete.
Messi business another Barca PR disaster
Contrary to claims made by disgruntled supporters, however, City could not have not registered Jesus in August when they reached a £27 million deal with Palmeiras, as the youngster requested to finish the Brazilian season with his boyhood club.
But the Premier League side have had since January 3, when Jesus arrived in Manchester and the first working day of the year, to get the 19-year-old legally cleared to make his debut.
City have also denied that the hold-up is due to a third-party investment dispute back in Brazil.
Fabio Caran, who ran Jesus' first club, Anhanguera, and helped take him to Palmeiras as a 16-year-old, claims that he still retains 22.5 per cent of the forward's rights.
Caran stepped aside as Jesus' representative in late 2014 but insists he is due around £6m of the £27m transfer fee paid to Palmeiras by City last summer.
Palmeiras maintain Caran violated the terms of Jesus' previous contract with the club and is therefore not entitled to a cut of the deal, and have taken him to court.
Those proceedings are yet to begin. 
City sources, however, insist the dispute has no bearing on the FA's decision whether to register Jesus or not, and that a previous court ruling in Brazil allowed his transfer to the Premier League to go ahead regardless of Caran's claims.
City are also confident that the FA is satisfied with all of the documents they have seen so far.
"He cannot play - papers," Guardiola said of Jesus on Friday. "When Palmeiras and the FA solve the problems he will be able to play."
The FA banned third-party ownership at the start of the 2008-09 season following the controversy caused by Carlos Tevez and Javier Mascherano's moves to West Ham.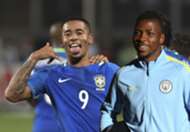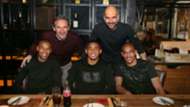 The regulations mean all clubs under the FA's jurisdiction must own 100% of their players' rights.
The dispute between Caran and Palmeiras, which City are confident has no bearing on Jesus' registration, has been rumbling on for months.
Jesus was personally dragged into the row back in September when Caran, in response to Palmeiras' decision to go to court, provided Brazilian publication UOL with screenshots of Whatsapp conversations with his former client.
The messages showed Jesus criticising the Palmeiras board for their role in the disagreement, and that he wanted to pull the plug on his big move just so the Brazilian club would not receive any money.
"Fabio, you know how the president [of Palmeiras] is," Jesus said in the messages. "For me, Palmeiras should only take what they are entitled to. Seriously, honestly.
"But unfortunately there are still egotistical people [involved]. I swear, I almost pulled out of the deal so Palmeiras didn't get anything."
Jesus was also said to have been in support of his former agent's claim to a percentage of the deal: "Fabio, I already told the guys to pay what they had to," he added. "I can't make them, I have not signed anything yet and until I sign we will try, but I can't make the president do anything, and you know how he is."
Pep unlikely to add to City squad in January
But Jesus then insisted he was disappointed that Caran had provided details of their private conversations, saying he felt "tricked and manipulated by somebody I used to trust", who had provided an "incomplete and out-of-context" section of their interactions.
Jesus will be fit to contribute when his registration as a City player is eventually accepted by the FA.
The forward was given December off after his exploits with Brazil and Palmeiras in 2016, but has been training with his team-mates since January 6 and is said to be progressing well.