NPFL
Wikki Tourists were motivated against Sunshine Stars, says Ibrahim Mustapha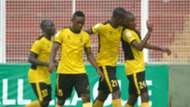 Wikki Tourist captain Ibrahim Mustapha says motivation received from coaches and management inspired their 2-1 comeback win against Sunshine Stars on Sunday.
Goals from Idris Gida and Richard Jonathan helped Bala Nikyu's men overcome the Owena Whales despite Nojeem Raji's opener at the Abubakar Tafawa Balewa Stadium.
And the defender praised Duke Udi's men for giving them a tough fight and hailed their management for the good support with the vow to replicate the form against Enugu Rangers in their next match.
"It was a very good game and glad we won 2-1 in the end," Mustapha told Goal. 
"I must admit Sunshine Stars gave us a very good fight but we played very well to get the victory.
"The secret behind our winning is the management and coaches of our team. They've really been encouraging us like after first half they gave us a very good motivation.
"Our supporters too contributed a lot the really encourage us to win. Is just a word encouragement from the ginger us, the boost our morale to fight more hard in the second half.
"The management is doing a very good well because they are not joking with match bonuses and allowances. They've always wanted us to be happy so that we would play very well on-field.
"To be sincere, Sunshine Stars is a very good side. We know the kind of game they play and saw that they are very good on the road, so we prepared very well for them.
"At half time, the coach really didn't tell us much than to just to go and give them a very good fight and leave the rest to God.
"Though they scored first we remained calm and continue with the fight equalize in the first half before we got our winning goal in the second half from a penalty.
"The penalty was a clear one because even the opponent surrendered because is a well deserve penalty and never complained about it.
"We would stay focused on our next home match against Enugu Rangers.  Sunshine's match has become history and our attention is on getting all the three points against Rangers.''