Transfers
'Man Utd three signings short of competing' - Mourinho has to match City spending, says Robson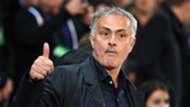 Manchester United "have to match the spending of City", says Bryan Robson, with Jose Mourinho "three excellent additions" away from being competitive.
The Red Devils have continued to invest heavily over recent years, with big money splashed out on the likes of Paul Pogba, Victor Lindelof, Eric Bailly, Nemanja Matic, Romelu Lukaku and Fred.
Mourinho has, however, claimed to have been handed a rebuilding project at Old Trafford, with more fresh faces required in order to bridge the gap in Premier League title races.
Robson agrees with that assessment, with the United legend conceding that more quality needs to be drafted in if arch-rivals City are to be chased down and more major silverware delivered.
He told the Daily Mail: "Manchester United have to really improve their recruitment.
"Though the gap between them and Manchester City seems large, I still believe two or three excellent additions will make them competitive.
"During my time in management it was always proved that if you buy average players you end up with an average team.
The club can still attract players but they will have to match the spending of City to give Jose Mourinho a better chance.
"They should allow him to identify who he wants and then go out and get them. Then it's up to Jose to deliver a title-chasing squad and I still believe he is the man who can take them forward."
United's struggles for consistency with their current squad have them sat eighth in the English top-flight, with 12 points separating them from the summit and seven from the top four.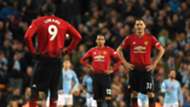 Robson believes Champions League football can be secured, with a challenge for the crown "never realistic".
He added: "The World Cup took its toll on United's start to the campaign but there have been signs of recovery up until Sunday [against City]. Now it's a case of recharging and going again.
"United fans shouldn't be too despondent. It's a long, hard season and there's plenty of twists to come.
"A league title was never realistic but, with a couple of additions, it is realistic to think they can make the top four and Champions League, then look to step up next season. City have set a high standard but it's not insurmountable."
United suffered a 3-1 derby defeat to City in their latest outing, with Mourinho's men struggling to counter the loss of Paul Pogba to injury and ultimately paying the price for a slow start to a crunch clash.
"There are mitigating circumstances for United's performance against City on Sunday," said Robson.
"The squad didn't get back from Turin until 3.30am on Thursday [following a Champions League clash with Juventus] and that saps your energy ahead of a derby game — plus they were without Paul Pogba. 
"He has plenty of critics but I'm not one of them. He's a big-game player and the team sorely missed his dynamism across the park."