Premier League
Man United look to get back on track against Tottenham - Preview, brought to you by Dashing Elite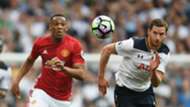 Against expectations, Manchester United slumped to a 2-1 defeat to Huddersfield last weekend – giving the West Yorkshire side their first win in the Premier League since August. Though still early days in the title race, the defeat widened the gap between table-toppers Manchester City and second-placed United to five points.
That also meant United and Tottenham Hotspur are now level on points (20).
After a commanding start to the season, United now come up against their second 'big six' rival after holding Liverpool to a 0-0 draw at Anfield. Yet Spurs are a far trickier opponent, boasting an attack that has the ability to match United's own for pace, creativity, flair, and a lethal striker to spearhead their respective attacks.
Indeed, United's Romelu Lukaku and Spurs' Harry Kane have been the dominant goalscorers for their respective teams. While the Belgian is joint second on the leaderboard after scoring seven goals in nine matches, Kane is the highest with eight. But Spurs will miss the services of Kane, who has been ruled out with a slight hamstring strain. 
The hosts at Old Trafford are still unclear on the availability of Paul Pogba and Marouane Fellaini – their absence has left a void in midfield that manager Jose Mourinho still hasn't found a suitable plug for. Crucially, the duo was instrumental in United's midfield dominance and creating chances for Lukaku, who has been relatively starved of the ball without them.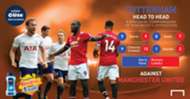 At the same time, Spurs has a good depth to their squad. Dele Alli has been rampant in his attacking midfield role, while Kieran Tripper has forged a strong chemistry with Kane. In fact, of the 29 goals Kane has scored in the 2017 calendar year so far, seven have been assisted by Tripper – including the opener he scored against Liverpool in the 4-1 win last weekend. Fernando Llorente will be hoping the same kind of service on Saturday. 
United's Marcus Rashford too is chasing a record. On Saturday, the 19-year-old will have his last chance at breaking Wayne Rooney's mark of 15 goals as a teenager, as United's front-man turns 20 two days after the Old Trafford match against Spurs.
But as far as the history of the fixture is concerned, Spurs have never had a decent run at Old Trafford, having lost 20 of their last 25 away trips to Manchester United – winning just twice.