Eden Hazard
'Man-mark Hazard like I did Messi!' - Brown reveals how Man Utd can stop Chelsea star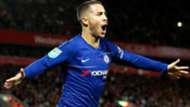 Man-marking Eden Hazard could be go a long way towards Manchester United slowing down the Chelsea star when the clubs clash at Stamford Bridge on Saturday, according to former Red Devils defender Wes Brown.
Hazard has been the best player in the Premier League this season, with having already found the net on seven occasions while adding three assists as well scoring the winner against Liverpool in the Carabao Cup.
His performances have played a big part in the Blues' undefeated start to the season, which sees them level on points at the top of the table with Manchester City and Liverpool.
Meanwhile, Jose Mourinho's charges have struggled at times and sit eighth, seven points behind the Blues, and face a tough task visiting Hazard and Chelsea this weekend.
But Brown thinks slowing down Hazard, and as a result Chelsea, is possible if Mourinho chooses one of his defenders to man-mark the star forward – something Sir Alex Ferguson once ordered Brown to do against Lionel Messi in the Champions League.
"I like the idea of man-marking," Brown wrote for Manchester United's official website. "I remember the manager, Sir Alex, asked me to do that against Messi and Barcelona one time, with help from the team!
"I think it is quite simple: the less that Hazard gets of the ball, the less of a threat he is, so if someone can get tight on him pretty early on then hopefully he passes the ball off every time or we get a tackle on him.
"That's a good game plan because, even though Chelsea have started the season really well, he is definitely the main threat."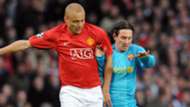 Brown also noted it how the Messi instruction differed from what Ferguson normally liked to do, and while it was certainly a difficult task, he relished in the opportunity the challenge provided.
"Obviously, man-marking Messi was hard," he said. "I remember thinking 'just don't dive in!'
"But it was good and I enjoyed it. It was the Champions League semi-final when we were all focused, we all knew our jobs and you can remember that night yourself at Old Trafford, it was a great one to be involved in.
"It was a rarity for Sir Alex to specifically ask someone to man-mark an opposition player. He wasn't really into man-marking someone as such, but we all knew what Messi could do and it was more of a case of necessity. The less he had of the ball, the more chance we had, because he's one of the best footballers ever to be.
"I wouldn't say that Hazard is Messi, but he's started this season really well and he's one of the top players in the Premier League. He is a clear and obvious threat."
Brown admitted some shock at Chelsea's flying start but also noted their happiness under Sarri and how vital Hazard is to their attack.
"Chelsea are unbeaten under Sarri and I am a little bit surprised," Brown said. "Having watched them you can see they are playing freely, they are enjoying it and Hazard has been that main danger.
"The way he gets forward and the way the team plays, it's very exciting and they've started really well."
While the task facing the Old Trafford outfit is difficult, they finished the match before the international break strong with a comeback win over Newcastle and Brown believes that can carry over and help the team build up some much-needed momentum.
"We need more of the focus that we saw in the second half against Newcastle," Brown said. "We need the passion that we showed. We just need to start with that same level against Chelsea.
"Confidence is massive, I've always said that, and that win should have lifted ours. If we want to start well after the international break, then Chelsea and Juventus are exactly the games that you want. These are the games you need to be up for and I am sure they will be."