Super League
Malaysian clubs will go broke without TMJ, warns Hamidin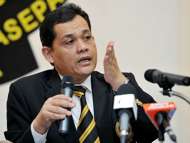 ---
BY        ZULHILMI ZAINAL       Follow on Twitter
---
The Malaysian FA (FAM) secretary-general Dato' Hamidin Amin has come out in defence of association president Tunku Ismail Sultan Ibrahim, claiming that Malaysian clubs cannot be financially viable without the Johor Crown Prince.
In a statement issued on the association's social media, Hamidin has taken a dim view of many parties' criticism of Tunku Ismail, who is also known as TMJ by fans, for fulfilling his obligations as the FAM president only on a parttime basis.
"Many have voiced their dissatisfaction when HRH Crown Prince of Johor said that His Royal Highness is only working part-time at the FAM despite it being a fact. It is because all exco members work part-time. Everyone at every state football association also works part-time. So it is correct, as His Royal Highness' first and foremost duty and responsibility is to serve Johor.
"His Royal Highness is HRH Crown Prince of Johor. So, football is not His Royal Highness' full-time job. Why are so many people being ridiculous? When I see our fans criticising, scorning and so on at trivial matters, it clearly shows our country is not like any progressive country. It is like low-class minded," wrote Hamidin.
Hamidin also claimed that sponsors have only shown an interest in bankrolling the M-League due to their trust in Tunku Ismail, and that should the Johor Darul Ta'zim (JDT) owner step down as FAM president, Malaysian clubs will miss out on the sponsorship money promised to them.
"Besides that, if HRH Crown Prince of Johor quits, the FAM will get worse. The FAM now has a RM49 million (USD 11.6 million) debt, and no money for next year. Now we have many companies interested to invest thanks to His Royal Highness' leadership. If His Royal Highness leaves, surely those companies that want to invest RM60 million, RM70 million or RM80 million will all pull out.
"If that happens, it will get worse for all competing teams. Because it is His Royal Highness' ideology to give between RM6 million and RM7 million to every competing team. It is likely that in the first year it will be only RM3 million. The FAM in the past gave, at most, less than RM400k, but HRH Crown Prince wants to give RM3 million in the first year and more in the second year until it reaches between RM6 million to RM7 million.
"If His Royal Highness is no longer here, the sponsors will pull out. His Royal Highness does not need to worry because JDT will have money, but what about the other teams? If you want to evaluate, make your evaluation realistically, not as you please. Think carefully," reminded Hamidin.