FA Cup
PKNP hand Felda the favourites tag in their FA Cup QF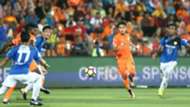 PKNP FC and Felda United also met each other in the same stage of a different competition last season, in the Malaysia Cup. That tie went in favour of Felda who somehow rescued a 1-3 deficit from the first leg to eventually win 5-4 on aggregate.
Having swap leagues this season for very different reasons, it does look like the view has changed, at least from the perspective of PKNP.
PKNP are just two points above the relegation zone after five rounds of matches played in the Super League while Felda are excelling in the Premier League, winning all five of their matches thus far.
"We got to acknowledge that they have been very consistent in the Premier League this season and they have good calibre players. It will be a tough fight but for PKNP, we will still try our best to provide a challenge."
"On paper, maybe they are the favourites. The Felda team is of Super League quality but it will come down to who has the momentum on the day of the match," said Abu Bakar Fadzim, PKNP's head coach.
PKNP reached the quarterfinal of the FA Cup after ousting Kuantan FA with a 3-0 margin while Felda only narrowly beat UKM 2-1 in the third round.
Captain Shahrel Fikri notched his first goal of the season in that win over Kuantan to kickstart his 2018 after spending much of the start recuperating from his injury. The highest scoring local player in any division last season, Shahrel is hoping that PKNP can cause an upset against Felda.
"We have already matched our achievement last year in this competition. Hopefully this year we can go one step further. Felda have a good team with players like Wan Zack Haikal. We are still the underdogs despite being in the higher division. Hopefully we can spring a surprise in the tie," said Shahrel.