PSL
Mabunda optimistic of Mamelodi Sundowns' chances of defending PSL title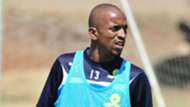 Mamelodi Sundowns midfielder Tiyani Mabunda believes they have what it takes to make up for lost time and collect enough points in their games in hand remain in the title race.
"With an experienced and balanced squad that we have, I'm optimistic that we have what it takes to defend our league title," Mabunda told Vodacom Soccer.
The Limpopo-born is aware of the challenges they are facing as they are no doubt the team to beat in the league as well as on the continent.
"However, as much as it is important for us to defend our league title, one needs to be realistic about the tough challenge we are faced with," he said. 
"Having six games in hand means that we will have a very hectic fixture, playing those catch-up games," said Mabunda.
Mabunda is well aware though that games in hand are not points gained.
"Yes, on paper it may look like we have an advantage (over fellow opposition teams) with a virtue of having six games in hand." 
"But realistically in football games in hand are not guaranteed points. So, we will have to take each game as it comes without putting ourselves under unnecessary pressure," Mabunda concluded.