Lionel Messi
Suarez warns Barcelona: Best in the world Messi must be given new contract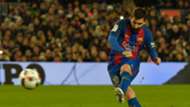 Luis Suarez has warned Barcelona that they must do everything in their power to keep Lionel Messi happy.
Payet refusing to play for West Ham
The Uruguay ace hailed Messi as "the best in the world" after his Barcelona team-mates crowned a superb Copa del Rey comeback against Athletic Club, with the holders triumphing 4-3 on aggregate.
The Argentine, though, is reportedly unsettled at Camp Nou, with talks over a new contract uncertain after Barca CEO Oscar Grau warned that the club have to be "strict" with their budgets.
After the 29-year-old multiple Ballon d'Or winner inspired Luis Enrique's men to a stunning triumph in midweek, Suarez seemed to offer a veiled warning to the club's leadership, stating: "He has that something. He is the best in the world and it shows in every game.
"He always surprises us with something nice."
'Fellaini deal worse than my cat dying!'
Trailing 2-1 from a highly charged first leg at San Mames last week, Suarez had put the hosts ahead on with his 100th goal for the club.
It was also the 300th goal that Barcelona's famed MSN front three have managed since they first played together in 2014 and Neymar got in on the act by winning and converting a penalty early in the second half.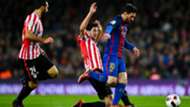 Athletic's Barcelona-born wideman Enric Saborit levelled the tie on aggregate with a 51st-minute header but Messi stepped forward 12 minutes from time to send home a whipped free-kick off the base of the right-hand post.
Messi's prowess from such positions is becoming less surprising by the match in 2017, after he also converted from dead-ball situations in the first leg and at Villarreal on Sunday to snatch a 1-1 draw in La Liga.
With Barcelona five points off the pace in the top flight, having played a game more than Madrid, Suarez conceded it was important to stay on track for a third consecutive Copa del Rey crown.
"[The win] changes a lot," he said. "It's what we wanted and needed.
"We were reassured that we are working well and the results would come."
Suarez hit three figures in his 120th Barcelona appearance and added: "The important thing is that the goal I scored served to help us advance in the Copa, which is what we wanted."