South Africa
Lucas Radebe hints at Safa employing foreign head coach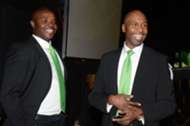 The South African Football Association (Safa) have been on the lookout for a new Bafana Bafana coach since December when Shakes Mashaba was asked to step down.
Safa president Danny Jordaan has expressed his desire to have a new coach in place by the end of February.
The debate over a local versus foreign coach has been going on for many years. But now the latest football personality to jump in on the debate is former Bafana Bafana captain Radebe.
The 47-year-old has been appointed to the Safa selection committee. The committee includes Safa technical director Neil Tovey and will decide on the best candidate for the vacant national team post.
Radebe's latest utterances could be an indication that Safa will look abroad when appointing a new coach.
The former Leeds United cult hero has expressed his uncertainty towards a local coach's suitability to South African football's top job.
"You look around and ask [yourself]: 'Do we have a local coach who can occupy that hot seat and be respected?' I don't know," Radebe told The Sowetan .
"This gives us an opportunity to refresh and hopefully look for somebody who can take us further in the long term."
Radebe also mentioned that  whoever takes over he will need to buy into Safa's Vision 2022.
"We also need someone who is going into buy into the vision we have as an organisation. The aim is to sustain the success," Radebe said.
If Safa are to look for their man beyond South African borders, they have an abundance of candidates to choose from.
Safa have confirmed that high profile coaches such as Italian's Roberto Mancini and Giovanni Trapattoni have all submitted their CV's.