CAF Champions League
Lobi Stars deny Mamelodi Sundowns' underhand tactics allegation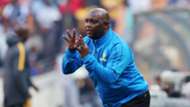 Lobi Stars have refuted the allegations made against them by  Mamelodi Sundowns coach Pitso Mosimane that they were treated badly when they came to Enugu, Nigeria to honour a Caf Champions League tie two months ago.
Masandawana were humbled 2-1 at the Nnamdi Azikiwe Stadium, Enugu on January 11 in their opening fixture of Africa's lucrative club competition but the reception they got in Nigeria and the alleged underhand tactics of their host have been thumbed down by Mosimane who confirmed they received the Nigerian champions warmly last weekend.
He says he is unhappy at the less than stellar treatment displayed to Sundowns and other South African teams while they play away and he feels it is old-fashioned and uncivil.       
"I don't want it to be personal, all I will say is that South African teams playing in the Champions League or Confederation Cup have never had a team coming here and denying them a pitch to train," Mosimane told the media.
"They (Lobi Stars) gave us a small bus in Nigeria but we gave them the biggest bus (here in South Africa) and we responded on the pitch. How many times have you heard that we had problems away? That's an old-fashioned football man. South Africa sides and even Bafana Bafana are often subjected to shocking and, at times, unsporting gamesmanship that is a trademark of the game on the continent.
"We keep quiet, play football because what goes around comes around. Two wrongs don't make a right. That is why I always say that the gap between Caf and the Uefa Champions League is very big."
Mosimane also decried the delay tactics deployed by opposing teams who make use of all tricks to ensure that they emerge victorious.
"Did you see (Sundowns goalkeeper) Denis Onyango lying on the floor and faking cramps? We play football," he added.
However, Lobi Stars have stressed that there is not an iota of truth in what the Mamelodi Sundowns handler said regarding their stay in Nigeria because they made the South African side as comfortable as possible before, during and after the Caf Champions League Matchday One tie.
The Vice Chairman of the club, Mike Idoko asserted that even though they won't be arguing with Mosimane, they knew that they tried as much as possible to be a good host when Sundowns came to Nigeria and that they don't have much to say about it.
"Those are all lies because we know that we hosted them very well when they came to Nigeria to face us," Idoko told Goal.
"We don't have much to say about it because we do not want to be dwelling on issues that took place a few months ago. We did our best when we hosted them even though it was not at our natural home. We tried to make them as comfortable as possible but if they had other issues outside what we have done, we don't have anything to say about that."