NPFL
Lobi Stars are Nigerian Professional Football League champions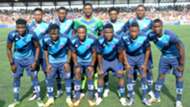 Lobi Stars have emerged as champions of the 2017-18 Nigeria Professional Football League season.
The League Management Company stated in a meeting on Friday that they reached a consensus to end the league season after 24 games. They were concerned about missing the October 15 deadline set by the Confederation of African Football. Every nation across the continent had to confirm their representatives for Caf club competitions by then.
In a statement, the LMC explained that the congested league fixtures, the Federation Cup and Enyimba's Caf Confederation Cup campaign forced the unanimous agreement, which was consequently ratified by the Nigeria Football Federation.
Based on several decisions reached, the Pride of Benue will be the nation's lone flagbearer in next year's Caf Champions League, having finished top of the log with 43 points from 24 games.
They further disclosed that no team will be relegated from the just-concluded season, while four teams will be admitted from the Nigeria National League for the new 2018/2019 season.
"Upon consideration of different options (5 possible options were presented), it was unanimously agreed by the 20 NPFL Clubs, that the 2017/2018 season of the NPFL is deemed concluded and the team at the top of the standings – Lobi Stars shall be the representative in the CAF Champions League for 2019 Session starting Nov 2018 to May 2019," the statement read.
"No team shall be relegated from the NPFL for 2018 Season.  Four Teams shall be promoted to the NPFL from the Nigeria National League (NNL) from the ongoing 2018 season to compete in the 2018/2019 NPFL season.
"The 2018/2019 NPFL season will commence in November 2018 with a total of 24 participating teams, which shall be divided into two groups of 12 teams each. The 2018/2019 Season commencing November 2018 will be played on 22 Match days ending with a Playoff to determine the Winner by May 2019.
"Three teams from each group (a total of six) will be relegated from the NPFL after the conclusion of the 2018/2019 season, while two teams will be promoted to the NPFL from the NNL 2019 Season. This will allow the NPFL to revert to its normal structure of 20 teams as from the 2019/2020 season.
"The NFF have also endorsed for the 2019 FEDERATION CUP to commence from September 2018 to end October 14, 2018. The NPFL Teams would be seeded for the CUP competition and the Winner to represent Nigeria in the 2019 CAF Confederation Cup starting November 2019.
The LMC named Rule B15.23 of the Framework and Rules of the NPFL that states: "Any matter unforeseen or not provided for or, conflict in the interpretation and application of these Rules, shall be dealt with by the LMC as the circumstances require, having regards to the interest of fairness, good sportsmanship and the overall interest of the game of football.
"On the strength of Rule B15.23, the relevant provisions in respect of the competition fixtures, particularly contained in Rules A2 (league structure) and A3 (the competition) were suspended. In addition, several factors were duly considered, including the effect of a compressed schedule on the health and well-being of players, need to meet the CAF deadlines of October 15, 2018, and the proposed commencement of the 2019 NPFL Season from November 2018 to end in May 2019 so as to align the NPFL Calendar to August/May instead of the January/November."