African All Stars
Liverpool urged to spend Coutinho money on Pierre-Emerick Aubameyang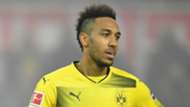 Following the departure of Philippe Coutinho, Phil Thompson believes Pierre-Emerick Aubameyang should be one of Liverpool's target.
The Brazil international moved to Barcelona earlier this week after completing a record deal that runs through till 2023.
And Thompson has advised the Reds to use some of the £145 million gained from the sale to buy Borussia Dortmund talisman Aubameyang, who has been recently linked to the Anfield outfit.
"We need to go for high quality. I'd rather see the club take their time rather than hastily spend it on players who might not be up to it," Thompson told SkySports.
"The players we brought in after selling [Luis] Suarez were a mix of hits and misses. We have got to spend it wisely this time and I would rather see it spent on a big player."
"Pierre-Emerick Aubameyang is one who would be on my list and somebody you could get.
"It would certainly be that quality you'd be looking for, although he would need to have the right work ethic."
Aubameyang has notched 13 goals in 15 Bundesliga games for Dortmund this season.