Liverpool
Liverpool show they Can take advantage of United, Arsenal and City's failings with Emre's stunner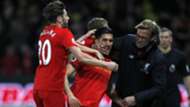 ---
COMMENT
---
The first half had only just begun when Liverpool had lost Philippe Coutinho, their 'Magician,' at Vicarage Road. But by the end of it, Emre Can supplied the enchantment to take the club closer to their Champions League target. 
With Manchester United, Manchester City and Arsenal all ceding points over the weekend, the focus naturally turned to whether Jurgen Klopp's side had the composure to capitalise against Watford on Monday night following their disappointment at home to Crystal Palace.
Editors' Picks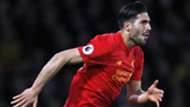 The encounter was the antithesis of a classic, but the answer from Liverpool was emphatic.
The Reds knew they would have to again deal with the ugly in order to undo Walter Mazzarri's side, who were tasked with "going on the pitch thinking they are in the Champions League final."
The visitors obliged, joining only Stoke and Middlesbrough to keep a clean sheet at Vicarage Road. 
A third away victory on the spin then, another achieved with Liverpool doing the very things they were apparently incapable of pulling off, and the pressure has shifted to those below them.
They are three points clear of City, who have a game in hand, four ahead of United with Jose Mourinho's men also having a fixture in the bank, and nine above an Arsenal team that have played two less.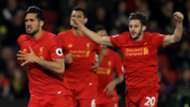 The Merseysiders had never lost consecutive league clashes under Klopp and they were not about to let that happen on Monday night.
The German had anticipated a physically imposing approach from Watford and within five minutes, both Divock Origi and Coutinho were left grimacing on the turf.
The striker attempted to turn Sebastian Prodl, but the centre-back brought him down and was lucky not to have received a booking.
He was able to shake off the challenge, but the Brazilian was not as fortunate.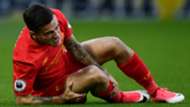 After Adrian Mariappa's knee clattered into his right thigh, Coutinho, who had scored in four out of his last five league appearances, was in sizeable discomfort and needed to be replaced. 
And so, in fitting with a major sub-plot of Liverpool's season, a key player returned from injury only for another one to suffer a setback. 
"He has a dead leg, hopefully it's not too serious but of course it's really painful and no chance [he could continue]," Klopp explained afterwards. 
"Everybody could see he tried hard, but no chance."
Adam Lallana, named in the squad for the first time since the 1-1 draw at Manchester City on March 19 after picking up a thigh problem on international duty, came on for the 24-year-old.
In a thoroughly dire half, the England international preceded Can's majesty with a masterful attempt of his own. 
Heurelho Gomes punched a corner away only as far as Lallana, who positioned himself around 20 yards out, waited for the ball to drop before producing a dipping, left-foot volley that was thwarted by the bar.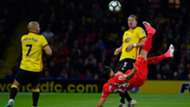 Moments later, Can wouldn't be denied what must surely be the goal of the season. Liverpool worked possession from an unthreatening spec out on the right through Lallana and Origi to Lucas.
The holding midfielder spotted the German's surge into space in the box and lofted the ball towards him. Nordin Amrabat tracked Can, but was powerless as the 23-year-old - all on the move - darted to meet the pass and acrobatically direct the perfect bicycle kick into the top right corner.
"Actually, I would love to see it again – everybody is speaking about it. I've only seen it once, but it looked already pretty nice," Klopp said post-match. "I probably turned a little bit too early when I saw it would hit the back of the net
"It was a difficult game as everybody saw. They are a difficult-to-play-against opponent, deep defending. We passed a lot, which we had to do, it's not possible to create chance after chance. I thought we improved from last week when we didn't look patient enough, but today we looked better and had these moments.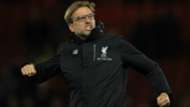 "Of course, we didn't train for a bicycle kick from Emre! But especially this pass was the main thing of our first-day session, so it's really nice to see something like this – the pass from Luc, the run from Emre. It was really nice because we could imagine how they'd defend. We scored this fantastic goal and then you have to stay in the game."
Origi, Lallana and Daniel Sturridge all had opportunities to extend Liverpool's advantage, while Simon Mignolet brilliantly denied Etienne Capoue's shot from distance.
The Belgian goalkeeper was stellar given Watford's tactic of trying to rough him up and put him off. Dejan Lovren and Joel Matip were steely too.
A major scare did arrive on 95 minutes when Prodl, unmarked at the back post, fired a shot against the bar from close range. 
"I said to the boys after the game: 'If you want to kill me, that's a good way to try!' It's crazy, it's crazy, [it gave me] 500 million grey hairs!," Klopp admitted. 
Liverpool could breathe easy, though, and bask in the magnificence of an unbelievable goal and another successful battle.