Liverpool
'Jamie needs to lose a little bit of weight!' - Klopp hits back at Carragher for Van Dijk comments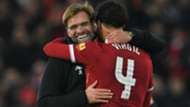 Liverpool manager Jurgen Klopp has hit back at former Reds defender Jamie Carragher over comments about the weight of centre-back Virgil van Dijk.
The record signing from Southampton enjoyed a dream debut for Liverpool, scoring the winning goal in an FA Cup match against Merseyside rivals Everton.
Van Dijk has arguably failed to impress since, however, starting in the Reds' subsequent 3-2 FA Cup defeat to West Brom and then sitting out a 3-0 victory over Huddersfield Town.
And while Carragher said on Sky Sports he believes Van Dijk will prove good business for Liverpool, he doesn't believe the defender is at top fitness levels.
"I think it will prove to be a great signing," Carragher said on  Sky Sports . "But he hasn't hit the ground running.
"I think he needs to get fit and lose a bit of weight. He actually looks too big.
"Maybe that's to do with not having a pre-season, not playing too many games for Southampton."
When asked his thoughts about Carragher's remarks, Klopp replied: "Nothing. Wow."
The Liverpool boss then hit back with a jab of his own before justifying Van Dijk's size.
"I'm sure Jamie needs to lose a little bit of weight," Klopp said.
"I know it's not the case for Virgil. He's a big tall lad — that's how it is. We have the best nutrition department — no one has come to me and said that.
"Being fit means having more muscle than anything else. It's not an issue."
Klopp also reiterated his belief Van Dijk's best football is to come after a summer with the team, and made light of the difficulties of a mid-season switch.
"There's a few ups and downs, but we will see Van Dijk at his best after the summer," he said.
"We don't have to wait until then, so we got him in. The defending style of our defending is different to Southampton, that's why it makes sense that you get used to it."
Despite Van Dijk not being at his best, Klopp has no issues with the defender and believes that, with the exception of the West Brom match, he has made a fine start to life at Anfield.
"For example, Everton was outstandingly good. Swansea was good, defensively, and he was involved in the two biggest chances we had," Klopp said.
"West Brom was a bad game for the whole team and then we thought it makes sense to rotate.
"It's expected to be honest, completely normal. There's a lot to do, a lot to work on, but the start is absolutely good."