Transfers
Links to Chelsea flattering but nothing in them - Kjaer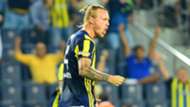 ---
EXCLUSIVE
---
Fenerbahce centre-back Simon Kjaer has said that he was "flattered" to be linked with a January move to Chelsea, even if there was no substance to the reports.
Man Utd fixture pile up spells trouble
The Denmark international, 27, has helped his side into the knockout stages of the Europa League, in which they will tackle Krasnodar, and his form has been at such a level that a move to Antonio Conte's men had been discussed as a possibility.
While that comes as encouragement to the former Lille, Roma and Palermo defender, he is set upon doing the best he can with his current employers.
"Fenerbahce gave a statement saying it all: there was nothing in it," he said. "As a player, you have to close your eyes and ears for rumours, because there are always so many of them.
"Again, it is flattering to be mentioned in connection with other big clubs, and it confirms that I am doing things well, but I am a Fenerbahce player, and my only focus is on this club."
Such were the level of his displays in the first level of the competition that he was named in UEFA's Europa League Team of the group stage, scoring two goals and helping his side to finish ahead of Manchester United in the pools.
Big brother no bother for Pogba
"The most important was for the team to win the group, and that we got through to the knock phase, but of course I am thrilled that my performances were noticed and rewarded. It is a pat on the back, and it confirms, that I am doing things well with my football," he added.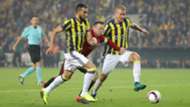 Beating Jose Mourinho's side 2-1 in Istanbul will live with him for a long time and displayed the strength of the team, particularly after suffering a heavy 4-1 loss in England in matchday three.
"Manchester United are a really great club with a fantastic tradition, and obviously we enjoyed beating them at home," he said. "It was a great result on an amazing night with an electric atmosphere in our stadium. That was one of the nights I will remember long after I have stopped playing football.
"The win in our stadium was one of the really huge games that we all enjoy to play - the reason for playing football. It was a revenge for us as well after the team's off day at Old Trafford - and our only defeat in a pretty tough group."
Achieving such a feat means that Fener are among an elite group of teams capable of going on to win the competition, the player believes.
"Winning the group and defeating United gave us a lot of confidence going into next phase of the tournament, and the ambitions of a top club like Fenerbahce are always to go into every game to win it - and every tournament. And I love that attitude," he confirmed. 
"It's a very important competition for the team. We are a top club in Turkey but we are also a club with an extremely big fan base both here and abroad and with international profile and ambitions.
"Last season we should have gone further than the last 16, but I think we have learned from that as a team. So yes, we are in it to win it - even though I expect other teams to say the same."