NPFL
Kogi United won't lose to Niger Tornadoes, says Osas Egbe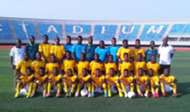 Osas Egbe believes his Nigerian National League team have what it takes to upset the Nigeria Professional Football League side Niger Tornadoes when they meet in Markudi on Sunday.

Tunde Abdulrahman's men thrashed Igho FC 4-0 to advance from the Round of 64 and were drawn against the last year's Federation Cup finalist in the Round of 32 stage of the competition.
The Kogi Boys forced the Ikon Allah to a 0-0 draw in a friendly in July, and the midfielder, who was on target against Igho, backs his side to upstage Hamza Abara's side at the Aper Aku Stadium.

"I feel very happy with the way we won convincingly against Igho but we our focus is now on the game against Niger Tornadoes," Egbe told Goal.

"I am proud of my teammates and glad we were able to start the competition on a bright note and showed that we are not a side any team should joke with. We all have great dreams in this competition and are very focused on making sure we achieve it.

"We know Niger Tornadoes very well and watched them play in Lokoja for more than three seasons before they returned to Minna. So, we know them in and out, coupled with the fact that we played them in a friendly two months ago. The match ended in a 0-0 draw and it was a good game for us.

"I know that no two matches or competitions are the same but I am confident that we will fight to beat them this time and won't lose. It won't be easy for us but i know that we have a very good team and can achieve anything we put our mind to."