Jürgen Klopp
Klopp is the best in the world - players would die for him, says Boateng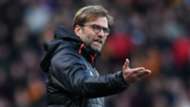 Kevin-Prince Boateng has hailed Jurgen Klopp as the world's best coach, stating the German has "everything" the job requires.
Gallas discusses Wenger's Arsenal position
The midfielder teamed up with Klopp at Borussia Dortmund when he was sent on loan there from Tottenham in 2009. He started off as a regular member of the starting XI, but his playing time became limited after an injury before he was suspended for a nasty challenge against Wolfsburg, being dismissed less than 10 minutes after coming on.
Editors' Picks
Dortmund were interested in signing him on a permanent deal, though, only to pull out of the deal.
But former AC Milan and Schalke player Boateng has good memories of his time at the club despite his struggles and was sad to miss out on the Champions League final and Bundesliga titles the team went on to win.
"I could see it immediately. [Klopp] is the best coach in the whole world," Boateng told The Guardian. 
"He knows when to push you and when to comfort you. He knows when you need a drink, when you need water... He has everything. Ask the players and they'll say: 'He's the best, I'd die for him.'
"He knows exactly what every player needs and gives them time. There were players at Dortmund who played five minutes in six months but they were happy: happy to come to training, happy to work, because he made you feel important. Not necessarily as a player – maybe he doesn't need you – but as a person. That's why he's successful everywhere.
What's happened to Thomas Muller?
"And Liverpool's perfect; just watching his presentation you see it. 'The normal one': people there love that. If he'd gone to Paris, it would have been best suit, [different message]. He knows how to grab people.
"[If I'd stayed,] I'd have played a Champions League final, won the league, the cup. But: 'if', 'when' … I don't know. I've had a career many dream of. I'm happy, but I know I could have done better; if I'd focused more, worked harder earlier. I'm happy to have met Klopp, to have worked with him, even if it was only six months."