Transfers
Klopp eager to tie Firmino down with new Liverpool deal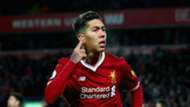 Liverpool manager Jurgen Klopp said it is important star forward Roberto Firmino signs a new contract at Anfield.
Firmino has flourished under Klopp, establishing himself as one of the best forwards in the Premier League, having arrived from Hoffenheim in 2015.
The 26-year-old has scored 13 goals and tallied six assists to lead free-flowing Liverpool up to third in the table and only two points adrift of second-placed Manchester United.
Klopp stressed the importance of Firmino extending his stay at the Merseyside club, with the German boss looking to avoid another transfer saga like the one the club faced with Philippe Coutinho, who moved to Barcelona during the winter transfer window. 
"It is very important for both sides. I think everything we are doing, the way we play, the way we give him the opportunity constantly to play - he deserves that," Klopp said.
"He deserves that because his work-rate is outstanding but it helped him a lot to step up. He became a different player here.
"Other teams can say, 'Hmmm, he's really good,' but it is not sure they will play the same way and use him as a nine or a 10 or they'll use him out on the wings.
"It is important to keep these players who are at a good age and when there is still space for improvement. There is no doubt we want to do that. You can imagine we try to do that. But they all have contracts. It's not that their contracts are ending in the summer."
Klopp also believes that his side became less predictable when Coutinho left for Barcelona, with Firmino growing in importance as the club tried to replace the productivity brought by his countryman. 
"Roberto was always a dominant player, but there are a few decisive differences in the last few games. Maybe the biggest compliment is that nobody thought in the last few games: 'With Phil it would have been different'," he said.
"I really don't want to throw dirt after Phil because there is no need and everything is fine, but it's just normal (Firmino is more important). The team needed to step up without him. It is another way to play football. I always hoped it would not be an issue."
Liverpool welcome former boss Rafael Benitez and Newcastle United to Anfield on Saturday, with the Reds currently holding third spot in the table and facing a fight to finish in the top four, with fifth-placed Chelsea sitting just four points back.