Kenya v Zanzibar
Kenyan football legends form Sports Stars Foundation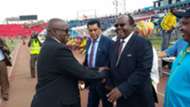 Legends of Kenyan internationals football in collaboration with former Football Kenya Federation President Sam Nyamweya have formed a Sports Stars Foundation with the aim of empowering sportsmen after their active years in sports.
The foundation which is open to all sportsmen across all disciplines is mooting a grand plan of forming a Savings and Credit Association (SACCO) in future to financially help the sportsmen.
European Football Association advisor Dr Michael Hopkins, who is a world renown CSR advocate, has already accepted to fundraise for the foundation while Mathare Youth Sports Association founder Bob Munro will sit in the board as one of the advisors.
Editors' Picks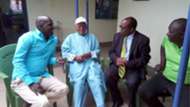 Several former footballers, who have brought glory to Kenya met before the Christmas festivities at a Hotel in Lenana Road and discussed the idea of forming the foundation.
Their initial concern was the dwindling standards of Kenyan football, the lack of passion for the game by current players and the poverty status of former footballers. The objective of the foundation is to use sports to preach peace and break the yolks of tribal division created by politics.
The foundation will also work towards making sports an income generating venture by encouraging youngsters in schools to venture into different sports disciplines. They will also approach the government to create an environment where sports can grow by setting up infrastructures in all corners of the republic.
As role models in the society, they will also work closely with federations, clubs, Olympians and other sports stakeholders to build a sporting culture and make Kenya a sporting tourism hub.
Among the members, who mooted the idea of forming the foundation are ex football internationals Joe Kadenge, Allan Thigo, Mickey Weche, Josephat Murila, Rishadi Shedu, Josiah Ougo, John Bobby Ogolla, George Waweru, George Sunguti, Marshal Mulwa, Abdulla Shakir, Mahammoud Abbas, Elly Adero, John Nyawanga, and Victor Onyango.
 Membership remains open to sportsmen and administrators in all disciplines. It was agreed unanimously that Sam Nyamweya will be the patron of the Foundation.