Super League
Ken Ilso is happy with two goals, praises Fakri for an amazing pass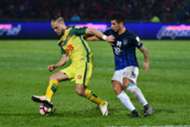 ---
BY         NIK AFIQ        Follow on Twitter
---
Kedah's import striker, Ken Ilso believes that the good combination between players, especially between the midfielders and the strikers was a great help to him in scoring in The Red Eagles' 4-1 win over Pahang.
Kedah ran riot at Darul Aman Stadium, defeating The Elephants comfortably and Ilso was in the thick of it with two goals.
Editors' Picks
According to the striker, they have been struggling to get the final pass previously, but last night was a different story.
"We have some difficulties in our previous matches with our final touch in front of the goal, and the last pass before the finish."
"We did great today. The pass that I got from Fakri Saarani was amazing and it makes it easier for the strikers to put in," said Ilso.
Ilso also added that he felt that he was a bit off in the first half, but the team kept going in the 2nd half and that changed the game.
"In the first half I felt like I was not really into the game. They were really closing us down. But it's good that you have players that are good with the ball."
"We agreed that we just want to keep going like we did in the first half and we know we're going to get our chances," added Ilso.
Baddrol Bakhtiar and Farhan Roslan also got on the score-sheet on a good night for Kedah, where they leapfrogged both Pahang and Perak to sit at the top of the table.