KPL
Kateregga: Foreigners should be included in All Stars team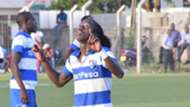 AFC Leopards midfielder Allan Kateregga feels that all players taking part in the Kenyan Premier League should be considered when SportPesa All Stars team is selected.
The team that recently lost 2-1 to English Premier League side Hull City was comprising of only Kenyan players and Kateregga says it is a good step to develop football in the country if every quality player is included.
When AFC Leopards and Gor Mahia will play in 2017

"Well, about the All Stars team, it should be automatic that foreign players are included, I mean they are playing in the premier league and whatever goes on in the top tier has something to do with them. If the goal is to develop Kenyan football then they have to be included, but if it is all about developing Kenyan footballers only then it is a different thing," he told Goal.
The Ugandan is a key player for Coach Stewart Hall as Ingwe aim at challenging for league title in 2017.