Premier League
Conte: Kante's PFA Player of the Year award can make him a more vocal leader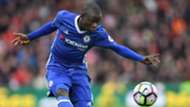 Antonio Conte admitted that N'Golo Kante may be lacking some of the leadership traits of John Terry, but thinks that winning awards may help him to become more vocal. 
Kante won the PFA Player of the Year on Sunday after a season of consistent displays for the league leaders, who go into their upcoming game against Southampton with a four-point lead in the Premier League table. 
Conte knows starting line up for Southampton
Conte was happy and "proud" for Kante's best player award but he admitted that he has yet to find his voice as he comes to the end of his second year in English football.
"Yes, he's a silent leader," Conte said at a news conference at Cobham Training Ground. "N'Golo also is young. He can improve in this aspect but, for sure, when you arrive in a great team like Chelsea and, for you, it's the first season, it's very difficult to try and speak and lead.
"I think he's a silent leader, and a leader on the pitch by example. With a good example. He's not the type of player who likes to speak out. He's not John [Terry] in terms of his personality. He's different."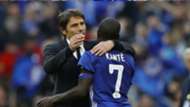 "But I think that, with years, he can improve on this aspect. And also I think these two seasons, his award... that will bring a lot of confidence in himself. I think in these years he can improve a lot in these aspects and become also a leader."
Hazard doesn't need to be more selfish, says Conte
Chelsea spent over £100 million in the summer transfer market and Kante was their second signing of the summer, as they brought him in for £32 million from Leicester City. 
Conte admits that he was happy to get a midfielder with his qualities and that he added an important dimension to his squad that he didn't already possess. 
"Yes, I think N'Golo was a target. Our target. We were very pleased to reach this target in our transfer market," He continued. "I think we spent this money in the right way. And, also, it's important to understand that, sometimes, you can see players with great talent, with great talent to score goals... these players are important.
"But if you trust in an idea of football and you trust in the team, it's important to have a squad with good balance, with talent, but also with people like N'Golo – very strong to win the ball, to fight and work hard for the team.
"You must be pleased with this. When you try and build a team, you need a mix of talent, with people who work so hard and try and improve, to find the right mix."