MLS
Jonathan dos Santos reiterates desire to reunite with brother Gio at club level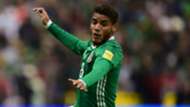 Mexico international and Villarreal midfielder Jonathan dos Santos has again reiterated his desire to be back in the same club with his brother, LA Galaxy attacker Giovani. However, he said it may not be in Major League Soccer.
Ahead of Villarreal's trip to face Barcelona this weekend, Jona spoke with the Blaugrana's official website about the allure of once again lining up in the same XI as Giovani, who he played with at Villarreal and came up with in the Barcelona youth system, though Gio had moved on before the two could play together there.
David Villa extends NYCFC deal
"It's always been a dream to be at a team together. We did it at Villarreal. In the future, he and I would love to be together once again and make history in the same team," he said. "We were lucky to make up part of the best club in the world, Barca, although we weren't both able to play there, which would've been an incredible dream.
"In the future, we'll play together, I'm sure of it. I have the desire to play with him again. I hope we can both play together, whether it be in Mexico or any other place."
While the players' home country, where both are regulars for El Tri, is a potential destination, it's also possible the Dos Santos brothers could unite sooner than that. In April, Gio reiterated his desire to stay in Southern California, and it's not exactly a secret that the Galaxy have had their eyes on Jona.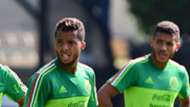 "There's interest on both sides, it's been discussed, but as of today there's no answer," Gio said in January after Goal reported the Galaxy were lining up a bid for Jona. "He's still a Villarreal player, so we'll wait to see what happens.
"It's been always my dream, and his dream, to play on the same team, and there's a chance. Hopefully soon we can be together."
Refs set example for Liga MX players
Before any reunion, though, Jona will be doing his part Saturday to help The Yellow Submarine pull an upset in Barcelona. But when he's not playing against the club, Jona says he pulls for Barcelona and watches in awe at what Lionel Messi is able to do, including marveling at his double in El Clasico last month.
"Messi always is getting better and every season he's the best player in the league," he said. "He can decide a match in every second, and that's what he did in the Clasico. When I can, I always watch Barca's matches and if they win it makes me very happy, even more so if they do it against Madrid. I feel a lot of love for Barca and I always will root for them."