PSL
Jomo Cosmos midfielder Tlolane reportedly set for FC Barcelona trials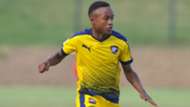 Jomo Cosmos midfielder Tebogo Tlolane will reportedly undergo trials at Spanish giants FC Barcelona.
The 22-year-old has had his breakthrough season in the National First Division (NFD) with Ezenkosi.

According to The Citizen source close to Tlolane, the player is about to live his dreams as he is set to train with Barca, before the start of next season.

"His nickname is Messi and going to Barca is a dream come true for the young man," the source said. 
"The move has not been confirmed as yet and the team is trying to downplay as much as they can as they don't want too much attention directed to the young boy," the source added.
However, when contacted by the same publication Cosmos club chairman and head coach Jomo Sono was mum on Tlolane's possible trial stint in Spain.
The Ezenkosi boss reportedly called on one of his assistants and said: "Hey, this man is pestering me with questions about big things here. I don't know what he is talking about."
Tlolane, who can play both as an attacking midfielder and winger, has featured in 22 league matches for Cosmos this season - netting once in the process.
Sono is known to have facilitated European moves for several footballers including Benjani Mwaruwari, who went on to play for English giants Manchester City after leaving Cosmos.