Bidvest Wits v Mamelodi Sundowns
Joel Masilela: Why Mamelodi Sundowns and Bidvest Wits match is not a title decider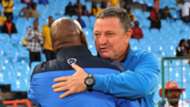 Mamelodi Sundowns legend Joel Masilela says Saturday's PSL clash against Bidvest Wits is a crucial one for his former club.
"Yes, it will be a good game, but not a big one for me. For those who are using calculators it is a big one," Masilela told Goal.
"It's just another game for me because we have to win. When you play Wits you need to play for the three points. So, it is just a crucial game, not a big game," he said.
"For me a big game is determined by the crowds on the stands. There will be few people on the stands based on the size of the Bidvest  Stadium. So, I can't say it's a big game for Sundowns," explained the legend.
Sundowns goalkeeper Denis Onyango made a goalkeeping error during the team's 1-1 draw with Polokwane City in midweek.
"Yeah, these things happen to any player because football is a funny game. Sometimes you become a hero or a villain, it is normal. I think he made a mistake and as one of our key players he is looking forward to the clash with Wits," continued the former Bafana Bafana player.
"We just need to be positive and support him. I am sure he has learned from this error as he rarely commits such errors. We just need to encourage him because he is the best in the continent and he carries the team," he added.
The defending champions Sundowns are placed second on the league standings - two points behind log leaders Wits.
"There is no pressure at Sundowns. I mean everybody has no pressure and it's only the coach (Pitso) who is under pressure because that makes him the best in the game," said Fire.
"He can handle it and I can also tell you about big coaches such as Pep (Guardiola) and (Jose) Mourinho, they tell you there is pressure in their jobs because if you don't want it, go and become a plumber," he warned.
"Coming to the race, Sundowns has so many games (two) ahead and the race is not over. A win over Wits will not mean the job is done," asserted the legend.
"There is still a long way to go and the boys will just have to take it game by game, but they should beat Wits," he added.
"You will remember two years ago, we failed to beat them in Johannesburg and they made things very difficult for us," he concluded.