Nigeria A'
'I've never lost a penalty' – Match-winner Ebuka David revels in UAM Tillers' triumph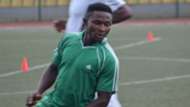 UAM Tillers captain Ebuka David is full of joy after scoring his side's last kick in their 5-4 penalty shoot-out win over UNICAL Malabites in the 2018 Higher Institution Football League final.
David was a thorn in the opposition's defence in the entire duration of the encounter and called goalkeeper Okorie Okechukwu to action on several occasions.
Despite his inability to score a goal at the Agege Stadium, the forward who won the highest goalscorer award with eight goals reserved praise for his teammates and revealed why he took his side's last penalty kick.
Editors' Picks
Highest Goal Scorer:

Recognizes the highest goal scorer in the league:

Nominee 👇🏾
Ebuka David Odenigbo (@UAMTillers) #HIFLeliteAwards pic.twitter.com/yJgt9b6LU3

— HiFLNigeria (@HiFLNigeria) November 3, 2018
"Glory to God because we started it well and we ended it well. Kudos to Unical for the game they played," David told Goal.
"I appreciate my teammates, officials and my school for their efforts in making me the highest top scorer.
"I took the last penalty because I have the confidence and the team have the confidence in me. I have never lost a penalty before since I started my career, so I believe that's what inspired me back there on the pitch.
Meanwhile, David likened his playing style with Juventus dangerman Cristiano Ronaldo who has scored seven league goals with four assists for his new Serie A side.
"I like Cristiano Ronaldo mostly, he is my role model in the scoring and playing aspect," he concluded.