Jamshedpur
ISL 2018-19: Cesar Ferrando - Gourav Mukhi's absence is a big blow for us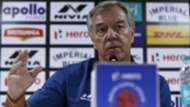 Jamshedpur FC will be looking to jump to the second spot in the Indian Super League (ISL) league table and get back to winning ways when they take on Kerala Blasters on Tuesday in Kochi.
Ahead of the match Jamshedpur boss Cesar Ferrando spoke about how the results are not doing justice to Kerala's performances. 
"I think Kerala could play very well. They didn't deserve to draw their matches. They have a good team and a good coach. They play in front of their supporters, we are ready to play tomorrow. They play very well as a team. The fact that they have one point from their last four matches won't affect anything." 
Editors' Picks
The Spaniard expressed his opinion on the inclusion of Michael Soosairaj in the national team but mentioned that the national team coach, Stephen Constantine would be the right person to take a call. 
"When we watched Soosairaj from pre-season until now, he has improved. The national team coach has to decide if he's ready. I like him to be in the national team but it's not my job. I wish he can play in the national team as soon as possible. I'm very happy with his work, he's working hard." 
The former Atletico Madrid coach is aware of the selection complications his team is facing due to injuries and fixture-congestion. But the fact that there are players who can play in more than one position comes as a blessing for Jamshedpur. 
"If you need to make a lot of changes, something is wrong in your team.  We will make some changes for tomorrow for sure but that is because we had only three days to rest. Memo and Mario (Arques) are playing very well. In the last match, Memo played as a centre-back. I need to watch them in training to decide whether to play Memo at centre-back or in midfield. Raju Gaikwad will miss out. Yumnam Raju is recovering, just started training and he won't feature," opined Ferrando.
He continued, "Tim (Cahill) is playing very well. He came back from Australia 10 days ago. I think he'll be ready for tomorrow, we need his help. We have a style of play and we want to keep it." 
Gourav Mukhi, who was recently handed a ban following a case of age discrepancy, earned some encouraging words from his manager. However, Ferrando failed to provide more clarity on the matter. 
He said, "(Gourav) Mukhi's absence is a big blow for us. He is a good player, he is different from the rest of the players. He is fast, he has the ball in his mind always. He committed a foul and he's banned but I think he's a good striker. The question about his age fraud has to be answered by his father or mother."