Indian Super League
ISL 2018-19: Eelco Schattorie 'happy' with Ogbeche, 'upset' by Rehenesh's suspension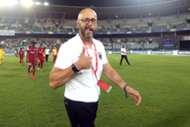 NorthEast United's Bartholomew Ogbeche wrecked havoc at Chennaiyin FC's JL Nehru Stadium as they notched up a 4-3 win at the home of the Indian Super League (ISL) defending champions.

Unbeaten in three games, Eelco Schattorie has taken his side to the top of the league table after two consecutive away wins. However, the Dutchman remained unhappy even after the win, questioning the timing of the announcement of goalkeeper TP Rehenesh's suspension.

The All India Football Federation (AIFF) Disciplinary Committee had taken till the evening of 17 October to state that the NorthEast United 'keeper has been put on 'indefinite suspension pending inquiry' for a punch on ATK's Gerson Vieira in a game played on 4 October.

"First of all, either we win, lose or draw, I was upset about the fact that 24 hours before the match, they tell our goalkeeper is suspended. I prepared with Rehenesh in training and I could not train him (Pawan Kumar) and that was a big obstacle. He came from Chennaiyin (last season) and he didn't play many games (there) and I didn't know how he would perform," uttered the 46-year-old in his first comments after the game.

The former East Bengal coach was happy that despite being 2-0 down, his side could stage a comeback, taking advantage tactically. "First goal we conceded from a set-piece, second one a mistake. Our goals, we scored two from their weaknesses which I analysed before the match," he said.

Bartholomew Ogbeche's hat-trick inside ten minutes in the first half turned the tide completely in the Highlanders' favour. Schattorie could not ask more out of the former PSG man.

"Barth scoring three goals is what he was signed for. Extremely happy with him as a player and a captain. A striker sometimes is lazy but he works and helps with our organisation," he praised.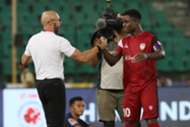 Schattorie has stuck to the same playing style and first eleven since the first game except during injuries (Keegan Pereira) and suspension of Rehenesh, he has had to rotate.
"I like to dominate more on the ball but that is a process. I am more painful for the players who are on the bench that I can't give them more time. The season is long and they will get their chances," he reasoned.
Talking about tactics, Schattorie revealed how he had been training his side to minimize dangers from set-pieces and conceded that the goals they shipped in on Friday night were silly mistakes.
"First of all, I've been in Asian football for a long time. A lot of goals are scored from set-pieces in this part of the continent, especially in the first and latter parts of matches. We worked on not conceding through set-pieces. We were prepared but our GK did not have good preparation.
"We went 2-0 behind I don't think it was because they (Chennaiyin) were aggressive or that good. It was our mistakes. We were losing a lot of balls on the wings. We conceded the corner for the first goal and the ball for the second goal because of that. It (The turnaround) was more about looking at ourselves and being more aware than anything else."
Lastly, when asked what is the main concern in his side despite the win, Schattorie shrugged the question off with a smile albeit without being complacent.
"​I'm not going to reveal what it (the weakness) is because other teams can take advantage of that. I don't want to do that because we are in the first place now," he concluded.
The
Highlanders
go back to Guwahati as they host
Jamshedpur FC
on 25 October next.