Indian Super League
Delhi Dynamos - Good To Watch, Easy to Beat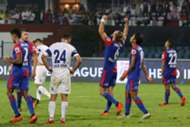 Delhi Dynamos have played attractive football so far in the fifth season of Indian Super League (ISL) and yet they find themselves winless at the bottom of the league table. 
In their 10th match of the season, against Mumbai City at home, they started off in a promising manner and let the visitors take control after the break. It has been a telling trend of what has been a poor season for the Lions . 
It is no secret that Delhi has struggled in front of goal this season. Lallianzuala Chhangte and Nandhakumar Sekar have struggled to make an impact. The former, in particular, has started every single match for Josep Gombau but has been wasteful when it comes to converting the chances.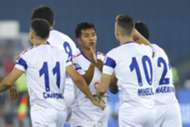 Gombau's decision to experiment with Adria Carmona as a false nine backfired spectacularly. Delhi's early promise failed to bore fruit as the hosts managed just one shot on target in the first half - an own goal by Souvik Chakraborty. 
Delhi's short passing game of football can be a treat to watch at times but it becomes pointless passing if they don't end up working the opposition goalkeeper. And at the other end, they get punished with late goals. 
Starting with Diego Carlos' 88th-minute equaliser against the Lions , 50 per cent of the goals let in by Delhi's defence have come after the 70th minute. In five out of their 10 matches, they have been hurt by second half goals after having taken the lead. It is either a question of focus or fitness.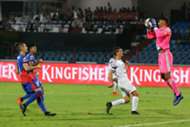 Gombau's stubbornness towards his style of play combined with the team's striking woes and second half collapses have led the Dynamos into an abyss. The coach can insist on an attacking brand of football if he has the squad for it. At Delhi, he does not have players fit or focused enough to carry out his instructions to the tee for the full 90 minutes. 
It is so frustrating for the supporters and the people at work behind the scenes to watch their team create chances, play 'good' football and still remain winless. The concept of winning in style has failed at Delhi and just maybe, it is time for the team to focus on just winning. The Spanish brand of football has failed spectacularly for two seasons running and the club management still however believes in the same which is perpelxing to say the least.
It must be noted that they looked most threatening in the final 10 minutes or so when they had Andrija Kaludjerovic and Daniel Lalhimpuia, their two strikers on the field. You have to question Gombau's tactics in the first place as he doesn't trust his strikers enough to play them together. His insistence to play with two wingers and a striker or a false nine has failed spectacularly.
It's time for Gombau to change things as Delhi continue to fail for the second season running. The question is how long can Delhi continue with Gombau who has an excuse up his sleeve for every disappointment.