Indian Super League
ISL 2018-19: Jorge Costa - We dedicate this win to Milan Singh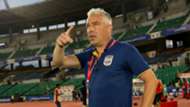 Mumbai City recorded their third win from six matches as they beat defending champions Chennaiyin FC by 1-0 in an Indian Super League (ISL) clash at Chennai on Saturday.
Despite the Islanders collecting their second successive win, a sombre Jorge Costa refused to celebrate and instead dedicated the win to defender Milan Singh who lost his brother recently.
"Cannot be happy because my players are not happy. Milan had a bad blow.  But he wanted to play. But we must respect that. His brother died before the game. So we must respect what he did and we dedicate this win to him," the Mumbai City coach said after the game.
Editors' Picks
Costa's men were put under pressure by the defending champions in the second half but rode on Modou Sougou's 20th minute goal to go home with all three points.
Summing up his men's performance on the night, Costa said: "We make a good first half we create chances. Chennaiyin didn't have one chance in the first half."
"In the second half we were 1-0 so they made us defend. But we were able to control (the game) I feel. They did not have too many chances."
It has been a mixed campaign so far for the Portuguese and his men with three victories interspersed with two defeats and a draw. Costa, however, believes his men are on the right track to secure qualification to the playoffs.
"Six games, 10 points. If we continue we get 30 points. Last year it was enough (for playoff qualification). We're on the right track. We have 12 games to play with a break in between," he stated.
The Islanders will now travel to Guwahati for their next ISL clash against NorthEast United FC and Costa believes there is still much work left to do for his men.
"Congratulations to my players. We go back home with thee points. It's good, but obviously, we are far from perfect. We have a lot of work to do," he said to conclude.