Indian Super League
ISL 2018-19: Chennaiyin FC's John Gregory rues 'gifted' goals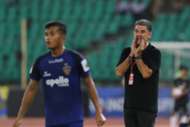 Indian Super League's (ISL) defending champions Chennayin FC were dealt a 3-4 defeat at the hands of NorthEast United in Chennai on Thursday.
Despite going up by two goals in the first half, the hosts fell prey to Bartholomey Ogbeche's hat-trick and found it difficult to get back into the game. After the high-scoring match, Chennaiyin head coach John Gregory said he was let down by the defending on show. 
"Without any question, we started very very well, played very good football with a lot of energy and it was one-way traffic. We were good value for our two-goal lead. We gifted a goal then and then got back to 3-1 up. Then we gifted two more goals.
"Our defensive displays in the last 12 months have been our strong points. We always played well defensively. Today, we gifted four goals literally. Not the sort of thing I would expect from my team. For the last 30 minutes, we were camped in their half but could not find the equaliser," the English coach said.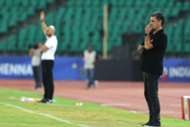 Despite dropping Jeje Lalpekhlua from the first team, Chennaiyin's forwards started the match well and went 2-0 up in twenty minutes. 
"Incredible amount of effort and I can't fault them offensively. For us to score three goals and not get anything is soul destroying. The second goal was the pick of the match. It was almost like a training ground goal. Offensive players will be disappointed. They did their bit.
"I need to address our defence. I can't criticise my players. They put in some five-star performances. Little Isaac had a good game, Anirudh Thapa is just back from China and I thought he played particularly well. It is fine lines. Football is like this, It can kick you in the teeth. We have another game in a  few more days. My first job is to pick them up, dust them up and go for the next games."
John Gregory lamented the fact that his side let go of a two-goal lead at home. "Not many home wins this season in the ISL. Teams have better away records. We should have won the game when it was 3-1."
Anirudh Thapa has come under criticism for his inconsistent displays this season but Gregory feels he will be a finished article by the end of the season.
"Sometimes, you get that with young payers. They make the odd mistake and you can't quite understand why. It is unusual. Thapa is one of the best passers in the club but he gave the ball cheaply on occasions today. You have to shut your eyes to that and hope he improves as he matures and improves his ball retention.
"Sometimes you have to nurse young players along and hope they learn from their mistakes and improve. Thapa is not the finished article but he will be by the end of the season. There are more good things than bad about Thapa."
As part of Chennaiyin's attempts to get back in the game, Inigo Calderon was pushed into the midfield with Fransicso Fernandes occupying the right-back role. 
"Calderon's played in that position a lot. He gives us experience in that role. I might lose his defensive capabilities in the right-back position but gain something in midfield. Frankie's (Francisco) not a right-back but he gets up and down the pitch."
John Gregory also touched upon the defending champions' hopes of a playoff spot. 
"We have given away poor goals and have had goalscoring opportunities. If that improves, we are not far away from a side that challenges for a playoff spot."