Bengaluru
ISL 2018-19: Carles Cuadrat - It will be very difficult to get points in this game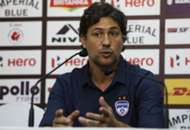 Bengaluru FC head coach Carles Cuadrat has attributed the team's unbeaten run and a good string of performances to his backline.
Among the host of players Bengaluru FC lost in the summer window, Subhashish Bose and John Johnson were the most significant ones, with the pair finding themselves in the starting line-up more often than not last season. Youngster Nishu Kumar has filled in for Subhashish while Spanish veteran Albert Serran has replaced John Johnson at the heart of the defence. The coach is pleased with their efforts so far.
"It was no easy task to replace Johnson and Subhasish. But, I'm very happy with the way Albert and Nishu have come in and done their job. I am really happy with the intensity they have shown going forward," Cuadart stated.
Editors' Picks
"In general, I think they are working very hard and our defenders have been performing well from home as well, as you saw in the last two games."
The 50-year-old was wary of a struggling Kerala and believes that Monday's fixture is a demanding one and the team will have to perform at the top level if they have to take something from it.
"Kerala are unbeaten for a reason and I think it will be very difficult to get points in this game. We will have to be at our best to take anything away from this clash."
Referees in ISL have been criticised several times but Carles feels that even the best leagues in the world are subject to inconsistent refereeing at times. The Spaniard, has however, called for consistency from the officials.
"I am very supportive of the referees, but what I also want is consistency with decision making, and also the way in which they allow us to play on when we have an advantage. I have to say that it is not a question of India. It happens all over the world and it's a matter of criteria," he said.