Indian Super League
ISL 2017-2018: FC Goa won't settle for a draw, says head coach Sergio Lobera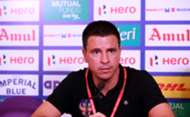 On Sunday, Goa face Jamshedpur in a do or die match as both sides compete for the lone remaining spot in the Indian Super League (ISL) playoffs. The Goans are placed fourth on the table with 27 points while Jamshedpur are placed fifth with 26 points.
Chennaiyin, who have qualified for the semifinals, have 29 points which means Sergio Lobera's side need just a point to qualify while Jamshedpur can't settle for anything less than a victory.
Discussing the situation ahead of the match, head coach Lobera commented, ''It is true that a draw will be enough for us but when you try to play for a draw, you end up losing. We will try and do our best possible, knowing that we will be facing a team which is very difficult to beat.''
The Spaniard made it clear that the Goan outfit has its eyes on the three points as it would benefit them in clinching a second or third spot which would give them more time to prepare for the playoffs.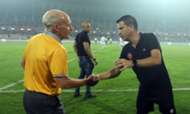 ''We'll play our best to win because that will qualify us for the semifinal and would also mean we won't be finishing fourth which will be an opportunity for us to take some more time. Keeping in mind that if we finish fourth, the first semi-final will be on March 7 and also keeping in mind that travel to Jamshedpur isn't an easy one. So going back won't be easy either,'' he explained.
The former Barcelona C manager believes that the match will be a challenging one for his boys as they face Jamshedpur whose strength lies in their defence. ''I think Jamshedpur are a good team who have a very good coach. It is a defensively well-structured team; a team which is very comfortable in the style that they have. The fact that they have come to the last phase of the league shows that they deserve it. I think tomorrow will be a very difficult game,'' Lobera concluded.