Indian Super League
ISL 2017-18: Winning is what should matter as FC Goa host Chennaiyin FC; Beautiful football should take a backseat!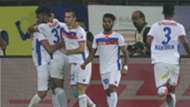 FC Goa's opening 45 minutes in the Indian Super League (ISL) must have set alarm bells ringing in the minds of the other teams. 
Against Chennaiyin FC in Chennai, FC Goa had a stellar first half, pumping in three unanswered goals to stun the vociferous home crowd into silence. Their cohesion in attack and creativity from midfield were breath-taking to say the least as the Chennaiyin defence was carved open at will. 
As the rest of the teams and fans marvelled at the kind of attacking football they displayed during the half-time interval, John Gregory and Chennaiyin FC served up a stark reminder in the next 45 minutes as to why a great attack on its own is nowhere near enough. 
Editors' Picks
Chennaiyin scored two goals and arguably should have had an equaliser but for Gregory Nelson missing an open chance. Goa's vulnerability was laid bare there with questionable goalkeeping from Laxmikant Kattimani also contributing to it. Though Goa won 3-2 and still had fans raving over them, their competitors in the league had seen a chink in the armour.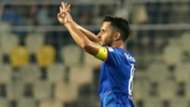 Now, two-and-a-half months later, FC Goa are set to host Chennaiyin FC in the reverse fixture in what is a match with a lot at stake. Both outfits are scrapping for a playoff spot with the tournament nearing its business end and can ill-afford to suffer a defeat at this crucial juncture. 
FC Goa had a sensational start to the season where they outscored their opponents despite conceding plenty of goals themselves and were leading the league at one stage. These results included consecutive 5-2 and 5-1 wins over Kerala Blasters and Delhi Dynamos, leading many to pen them down as a sure-shot candidate for the top-four spot. 
But Lobera's team lost their way after that as their prolific scoring run came to an end. Ferran Corominas' and Manuel Lanzarote's incredible appetite for goals had papered over their cracks in defence. 
Coro had an incredible haul of eight goals in his first five games while Lanzarote scored five in five games. But their scoring rate dropped a bit after that purple patch. Coro scored 'only' five goals in the next eight games while Lanzarote contributed 'just' the three goals. Though nothing alarming, Lobera's teams' vulnerability in defence meant that they regularly shipped goals despite scoring and could win only two games in that period. They now find themselves sixth on the table.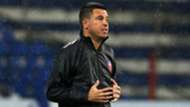 Whenever Sergio Lobera has interacted with the press, he has bullishly maintained that he is not concerned about his team's defence. But that stance has changed a bit as the team struggled a bit. 
Most recently, he was quoted by The Times of India, saying, "The defence is an area where we need to improve and we are working towards that. But in the last couple of games, we haven't been creating (too many) chances. This is something we are focusing on." 
Noticeably, Lobera dropped Kattimani for Naveen Kumar in goal recently. Kattimani, the Goa captain, has been at fault for several goals this season. While that is a start, Lobera needs to ensure his defenders also step up their game and take fewer risks at the back. 
At the end of the season what matters is results. Professional football is all about who amasses more points than the rest of the pack. No one would remember a team which scored a lot of goals but failed to qualify in the top four. This isn't a criticism of Goa's style but a reminder of the fact that should they not make the cut into the top four, their good work or attractive brand of football wouldn't be eulogized.
Lobera's FC Goa was compared to Liverpool FC, a team which can score a lot of goals but has a leaky defence. However, the former Las Palmas coach didn't take the comparison kindly.
"To be honest, I'm not in favour of comparing teams. Because each league, player and circumstance are different. Right now, you may compare us to Liverpool but we could also be compared to teams who scored for fun and went on to win the title too," he replied.
For now FC Goa are involved in a tussle to qualify for the play-offs, the title can be an afterthought.