Indian Super League
ISL 2017-18 Delhi Dynamos' Miguel Angel Portugal - Best players cost a lot of money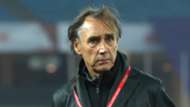 Delhi Dynamos have enjoyed their best run of form just recently - three matches unbeaten - only after being knocked out of the race to reach the Indian Super League (ISL) play-offs.

"We were working for the final (phase). We had good results in the last three matches. The luck has come late for us. Earlier, we had played according to our philosophy but luck was not on our side. I think we played better than our results (showed)," said head coach Miguel Angel Portugal on the eve of their home game against fellow strugglers ATK.
While a top-six finish in the ISL guarantees a direct entry to the Super Cup, the bottom four sides will have to go into a knockout-based playoff to reach the finals of the 16-team competition. 

"Right now, we are only thinking about the match against Kolkata. We have the opportunity to check our players and it's good for Delhi Dynamos. We will try to do well in the Super Cup because we did not have a good season in the ISL.
 
"We want to win the remaining three matches (in the ISL). We want to finish in the best possible position. Also, if we win the three matches, we will be (better) prepared for the Super Cup," the former Real Madrid Castilla coach said throwing light on his team's ambition.
Portugal also shared his opinion on whether the ISL should have a provision of relegation/promotion. 
 
He opined, " I don't know. The (Indian) Super League has this way of the competition (without relegation). I don't know if it's better or not. It's similar in America (MLS - Major Soccer League).

"For football in India, this (ISL) competition is good. I think we need the best players for this competition but the best players cost lots of money," he added.

"The fans always remember the big names like (Dimitar) Berbatov or (Florent) Malouda who was here the last season. They remember Wes Brown and big names. So I think it's very important to sign popular but not too old popular players. For that, the problem is the budget," concluded the 62-year-old.