Liga 1
Indonesia's Liga 1 suspended indefinitely days after brutal murder of fan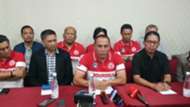 The Indonesian Liga 1 has been suspended indefinitely, just days after a fan was savagely murdered before a match between arch-rivals Persib and Persija.
The Indonesian edition of Goal reported that Indonesian FA (PSSI) chief Edy Rahmayadi on Tuesday announced the decision, following a meeting between the association's executive council members.
"We are suspending Liga 1 indefinitely. I don't know until when. Why has this decision been made? This is to show our concern, as well as sympathy towards the victim. We need time to clear our minds. 
Editors' Picks
"Secondly, please allow PSSI and the league organiser, as well as clubs and fans, some time. We will discuss the matter thoroughly as soon as possible.
"Thirdly, in the aftermath of the incident we will formulate a clearer SOP (standard operating procedure) that will help end destructive incidents, especially when 95 fans have lost their lives since 2005," said Edy to the local press after the meeting.
In the incident that took place on Sunday, a 23-year old Persija fan, Haringga Sirila was brutally set upon at the car park of Persib's home ground, the Gelora Bandung Lautan Api Stadium, by the home fans. Footage of the lynching has been shared by the country's netizen; showing Haringga being beaten with fists, kicks, crash helmets, two-by-fours, and also steel pipes, before his body was dragged along the street by the mob.
It was reported on Monday by the local media that 10 men have been arrested by the Indonesian police.